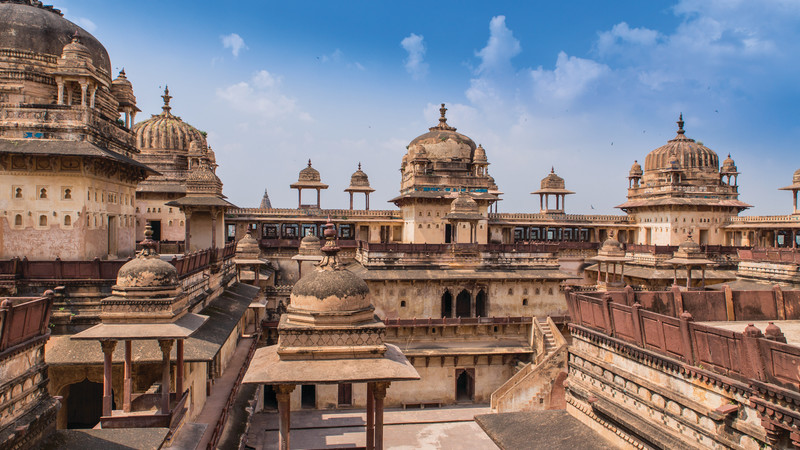 We travelled through India for over five months and Orchha still rates as one of our top recommendations for India travel destinations. Orchha is a small town nestled on the banks of the beautiful Betwa river in the central Indian state of Madhya Pradesh.
Although it is set up nicely for travellers, Orchha is still largely un-discovered by the masses of tourist, many who venture to the famous Khajuraho temples instead.  But thats just what we loved about Orchha…..It's quite and peaceful but has all the charm and beauty that makes for a special place to visit. 
We spent four days in Orchha soaking up the chilled vibe and exploring its historic and naturalgems. One of the highlights of our time there was that we basically had the place to ourselves!  
When talking to friends we meet on the road who are planning to visit India, we always encourage them to visit this little slice of paradise. We want them…..and you….to enjoy Orchha just as much as we did, so in this article we have written a full and detailed Orchha travel guide:
Reasons to visit Orchha

Things to do in Orchha 

Where to Stay in Orchha

Weather in Orhhca

Food in Orchha

Getting Around in Orchha
You can also check out our Orchha Travel video below for more insight into our Orchha travel experience: 
Reasons to Visit Orchha India
1. It's Home to Beautiful Historic Forts, Temples and Palaces
Orchha is a small town steeped in history and adorned with stunning forts, palaces and temples dating back as far as the16th century AD. The beauty of these places is breathtaking and to see the historic buildingsrising up across the horizon was a a sight for sore eyes! The history of this place definitely gave it vibe. 
2. It's Stunningly Beautiful
This little village blew us away with its quaint cottages, beautiful river and mind blowing sunsets. One thing we didn't expect in central India was natural beauty, especially when it came to bodies of water. Somehow we had the pre-conceived idea that all rivers in India were polluted.
But the Betwa river in Orchha surprised us…..in a  good way.  The river was beautiful and peaceful and seemed clean and blue.  The banks of the Betwa became one of our favourite chill spots, it really did hold a magical presence. Taking in the vibranly coloured sunsets by the river were probably a highlight of our time in Orchha. 
3. It Has Local Village Charm
Orchha still maintains its small village charm and is largely unspoilt by tourism.We had quite an authentic local experience in Orchha and enjoyed its laid back village vibe.  
Orchha is a great place to witness local life and the streets are filled with yummy local street food stalls.You can see village life everyday by watching the locals gather water, chat on the street, witness wedding ceremonies and farmers harvesting crops. 
4. It's Close to Delhi
You can easily reach Orchha by train from major cities such as Delhi or Agra. The train from Delhi is only 6hours long, meaning it can easily be included in your travel plans even if you only have a short trip to India!
5. It's Still a Travel Secret (Kind of)
Orchha is yet to gain the tourist numbers of other popular India travel destinations such as the classic golden triangle stops. It can still be regarded as 'off the beaten path' so you can avoid large crowds and overpriced hotels and food.
When we visited some of the historic sites of Orchha we basically had the place to ourselves. It was actually quite surprising how few tourist we saw. However, it is still set up for travellers with good accommodation and restaurant options. ​​
Things to do in Orchha India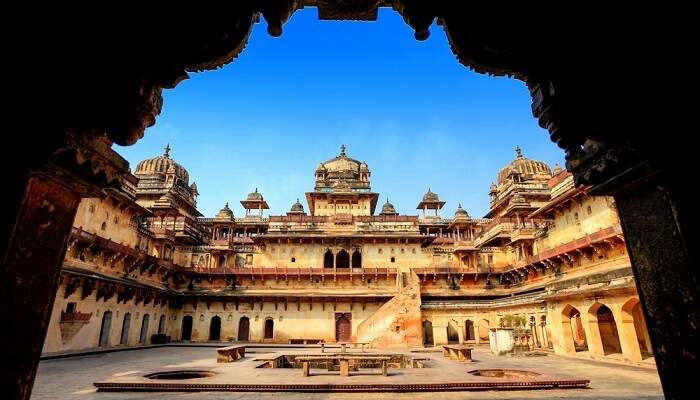 Discover Village Life in Orchha India  
Although Orchha is best known for it's ancient forts and temples we think another special part of Orchha is to discover is the village itself.
Orchha has a very small and charming village and is a great place to experience local Indian village life.  We spent one afternoon just exploring by foot in the outskirts of town and discovered colourful cottages and met the friendly kids and local farmers.
Explore Orchha Fort Complex:
Built as the royal palace for the king and queen, Orchha fort is an incredible historic site consisting of a palaces, temples,  gardens and pavilions. This is an incredibly well preserved fort with so many stunning buildings to discover and some incredible wall paintings that tell the stories of ancient times
We had so much fun exploring through narrow corridors and up tiny stairwells.  Like all buildings in the town the structure is well preserved and holds so much history of the area. The wall paintings were charming and told the stories of the royal family and their subjects.  Part of the ancient palace has even been converted into a hotel.
The best part about this fort is that unlike other popular sites in India, there are hardly any other visitors, so you can take your time enjoying the site without the hordes of tourist.  The second best aspect is the price! Entry fee to the fort which also covers other sites in Orchha is only 250 Indian rupees ($3.50USD).
Climb to the Top of Chaturbhuj Temple:
Situated in the centre of town this is one of the most impressive buildings of Orchha.  Once inside the temple the area is small but impressive.  When we were there a local guide took us to the rooftop of the temple and we were treated to stunning views of the town and surrounding area.
It was fun and a little adventure in itself following him through some hidden passageways and stairwells to the entry point of the rooftop. Though we have to admit, it was slightly dangerous and a bit scary up on the roof, being up so high with no railing……but it was an unforgettable experience!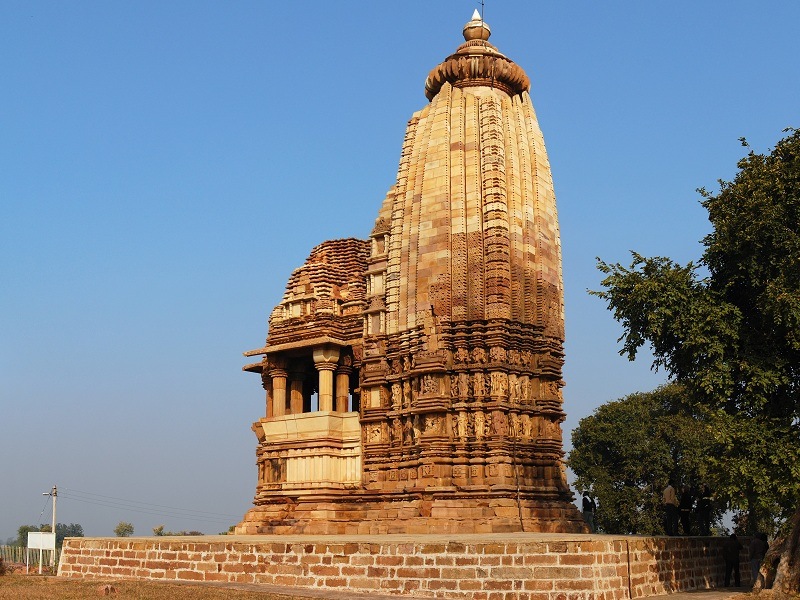 Exploring Unmarked Ruins of Orchha at dusk
Hire a Bicycle and Discover the Unmarked Ruins of Orchha 
There are so many unmarked monuments and ancient ruins to discover in Orchha. So hire a bike for $1-3USD and explore the area by bike.  Many of these unmarked ruins are in the surrounding areas of the fort, there are good roads and footpaths for cycling.
You will no doubt encounter some cheeky monkeys on your adventure as well….We did this in the late afternoon and found a special place to watch the sunset overlooking the ruins or Orchha. 
Chhatris of Orchha at Sunset
View the Chhatris of Orchha at Sunset
Located 5mins drive out of town you will find 15 ancient chhatris structures that adorn the river bank providing unforgettable views. These chhatris are the image that Orchha is famed for…..and rightly so.  
At sunset there is a calm golden glow that reflects off the structures and the atmosphere is magnetic. Definitely a travel moment we will never forget.  You can enjoy great views of the sunset and the chhatris from the bridge as well.
Discover the Ancient Wall Murals of Laxminarayan Temple
Dedicated to goddess Laxmi, this temple was built in 1662. Although the Laxminarayan Temple is not as impressive as some of the other structures in Orchha it is the incredibly detailed and well preserved wall murals that took our breath away. 
It is fascinating to see a glimpse into the lives of the ancient people through these paintings, a must visit when you are in Orchha.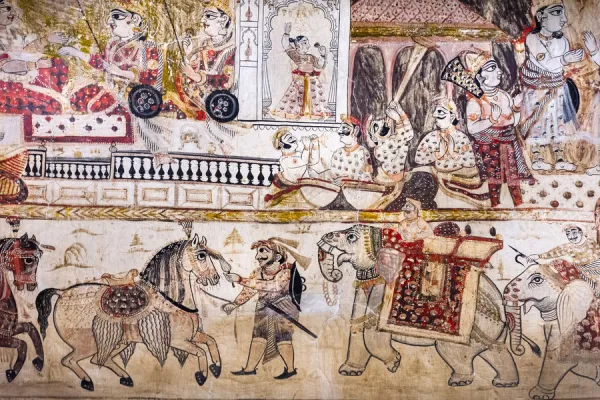 Take a Chill Moment by the beautiful Betwa River 
The Betwa river is very beautiful and has a real calming effect. It's a great place to have a chill moment and enjoy nature for a bit.  You will find many hidden spots along the river to relax and enjoy watching life go by.  You will se locals as they go about their daily lives and washing their clothes and kids playing in the river. 
Where to Stay in Orchha
Orchha is well set up for tourist and has a range of accommodation options for budget travellers and options those wanting a bit more luxury. We did the research for you and here are our top recommendations for accommodation in Orchha.
ShoeString:

Hotel Sunset

, 

is where we stayed during our time in Orchha and I must say it is incredible value for money. Rooms are simple but clean and the staff are lovely.

​Price approx: Rs400/$5USD

Hotel Sunset
Budget:

Hotel Shri Mahant

,  

a budget hotel with good reviews and a great rooftop terrace with stunning views of the temples.

​Price approx: Rs1200/$17USD

Hotel Shri Mahant
Lux/Midrange:
​

Sheesh Mahal

, is a luxurious hotel that is actually located in the palace walls. A heritage hotel which is beautifully decorated embracing the charm of the past.

Price approx: Rs6600/$95USD

Sheesh Mahal
Weather in Orchha India
WINTER SEASON, Oct-Feb:
​During winter in Orchha you will experience pleasantly warm days and chilly nights. Although days can still be hot you will escape the scorching heat of the hot season during these months.
Temperatures: 10℃ to 30℃
HOT SEASON March-June:
Hot season in Orchha is just that….HOT! Expect very hot and dry days that linger well into the 40's. Not the most ideal time to visit for sightseeing especially if you do not enjoy the heat. 
Temperatures: 35℃ to 45℃
MONSOON SEASON: July-Sept:
Temperatures begin to drop during the monsoon season but humidity and rainfall begin to rise. Central India see's moderate to heavy rainfall during monsoon with August its wettest month. 
​Although many do not recommend to travel to central during monsoon, it does provide stunning lush greenery in the otherwise dry landscape as well as gushing rivers and waterfalls. Considering this, if you don't mind a bit of rain, monsoon could be a great the to visit central India to admire nature.
Temperatures: 25℃ to 35℃
Food in Orchha
Orchha has lots of delicious traditional street food stalls to try out and we recommend you do.  Some of the best Indian food we tried was in Orchha like delicious Poha for breakfast and yummy vegetarian street snacks to delight your taste buds!
There are also plenty of cute restaurants and cafes to eat at serving Indian, western and Chinese food.  But we definitely recommend sticking to Indian food. Unfortunately, 9 out of 10 times the western food is more expensive and you will be disappointed.
To help inspire your Indian food experience you can see our street food video below, the last food item on there is actually Reti eating Poha an Indian breakfast in Orchha!:
How to Get Around in Orchha
Bicycle: Orchha is a fairly small place so we managed fine on Bicycle. You can hire a bike in Orchha for about $1-3USD
Rickshaws: Rickshaws are readily available in Orchha and will costs you about $1-2USD for a short ride within town or nearby surrounds. For a tuktuk to and from the train station in Jhansi expect to pay between 300-500rupees.
Foot: Because Orchha is fairly small you can often times just get around by foot.
So there you have it……our travel guide Orchha India.  We hope we have inspired you to visit this incredible place because we don't want you to miss out! If you have any other questions about Orchha, let us know in the comments section and we will be happy to help as best we can!  Happy travels Natives!
​Cheers, Native Travellers
​​INTREPID & OFF THE BEATEN PATH TRAVEL STORIES, GUIDES, TIPS & HACKS
| | |
| --- | --- |
| | Join the Native Travellers Journey and get off beat travel stories, guides and hacks. Plus we will send you a free Native Travellers music bundle! |