After 5months of travelling across India, one thing we can say is that India is one epic adventure! Its rich history, vibrant and diverse culture, delicious food and stunning landscapes makes India one of the most exciting travel destinations in the world.
One of our highlights while travelling India was celebrating Holi Festival, otherwise known as the Holi Festival of Colours. Take all the colour, vibrancy,  music and festiveness of India….times it by 10 and that is Holi. 
But… Is Holi Safe? Holi festival can be very crowded and overwhelming, but generally people are in high spirits and Holi is safe. If you leave your valuables at home practice general street smarts you will have a safe and enjoyable Holi experience. 
However we do have some tips to share to make sure you have and incredibly fun and safe Holi festival experience.We want you to enjoy Holi festival in India as much as we did, which is why we have taken the time to pull together all the facts about Holi Festival. In this full travel guide we explain everything you need to know about Holi Festival. 
Although Holi festival can be crowded and sometimes a bit rowdy, its usually all in good spirits. It's basically like a music festivals with colours played out on the streets of India.
Many people say it's safest to celebrate Holi at private events. However we feel this isn't necessarily safer and is not a truely authentic Holi experience. For that you need to be on the streets or with a local family.
Below are some sure fire tips to help you keep safe and smiling during Holi festival:
For girls – Do dress modestly with legs, chest and shoulders covered and nothing tight fitting.
Leave valuables at home. Holi is crowded and we actually had our phone pick-pocked during Holi (as you will see in our vlog above.) So leave valuables at home or wear a waterproof sports belt under your clothes to keep your values.
If you must bring a camera make sure its waterproof or water protected, it will get wet!
Be prepared for large crowds & take notice of your surroundings. To be fair most people are just out to have an amazing Holi festival and don't want to cause trouble, but in large crowds it's important to keep your wits about you.
Avoid drunken groups and don't put up with any inappropriate touching. Thankfully this did not happen to us! 
If you are a solo traveller, find some people to celebrate with.

Buy some colour and engage in the fun! Let loose and enjoy, the enthusiasm of Holi Festival is so infectious.
Don't wear white, unless you want to go see through! Holi involves water as well! 
Although the colour will wash out eventually, don't wear clothes or jewellery that are special to you. Wear clothes you don't mind throwing away.
If you want to remove the colour from any item, leave it in the sun, this really worked! (local tip)
Cover your hair with coconut oil or similar to avoid colour staining. This is what our Workaway host Astha did and it worked well!  The colour will come out of your hair eventually, but we heard it can take a while for blonde hair to go back to normal.
Be prepared for people to touch you, people will not hesitate to rub colour on your face & arms. It's usually very innocent and this is all part of the Holi fun, you should do the same to others!
During Holi week, prepare to be coloured anytime anywhere, if you don't want to be coloured stay indoors.
Celebrate with locals, it really does make the experience that much richer! A great way to connect with locals is through Couchsurfing or Workaway.
Embrace the craziness and have a 

HAPPY HOLI!!
Holi Festival India Dates: ​
2020, Holika Dahan is on March 9 and Holi is on March 10
2021, Holika Dahan is on March 28 and Holi is on March 29
2022, Holika Dahan is on  March 7 and Holi is on March 8
2023, Holika Dahan is on March 24 and Holi is on March 25
| | |
| --- | --- |
| Holi festival India | Holi festival India |
​

What is Holi festival?

 
Imagine a giant water fight celebrated on the streets of India, then add music, dancing, and tons of vibrant coloured power and that is Holi Festival. It is one of the most exciting and vibrant festivals in the world and we think it should be on every travellers bucket list.
But what is the real reason behind Holi and why is it celebrated? Holi is an ancient hindu festival that is celebrated across India.  Holi marks the end of winter and the start of spring, but the ancient story ultimately refers to the triumph of good over evil.
The story is based on a famous king named Hiranyakashipu who viewed him self as a god and needed everyone in his kingdom to adore him.  His son Prahlada looked up to Lord Vishnu and his jealous father wanted to kill his son for his defiance. ​
The king went to his sister Holika for help in killing his son.  Holika who had the power to survive flames, tricked Prahlada into sitting on a fire with her.  But her evil intentions meant her powers did not work and she died in the flames, scortched to powder, while Prahlada's life was spared. 
Thus the name Holi is derived from her name Holika.So where does the coloured powder come from?  It is said that the colours come from a story related to Lord Krishna.  Born in the state of Uttar Pradesh, baby Krishna drank the poisoned breast milk of Putana and gained unmistakable blue skin.

He grew up ashamed of his skin and thought that his love Radha would never love him back because of his blue pigment.  To help cheer Krishna up, his mother requested that Krishna shade Radha's face with any colour of his choice. From that day Krishna and  Radha were a couple and people have been playing with colours on Holi ever since. ​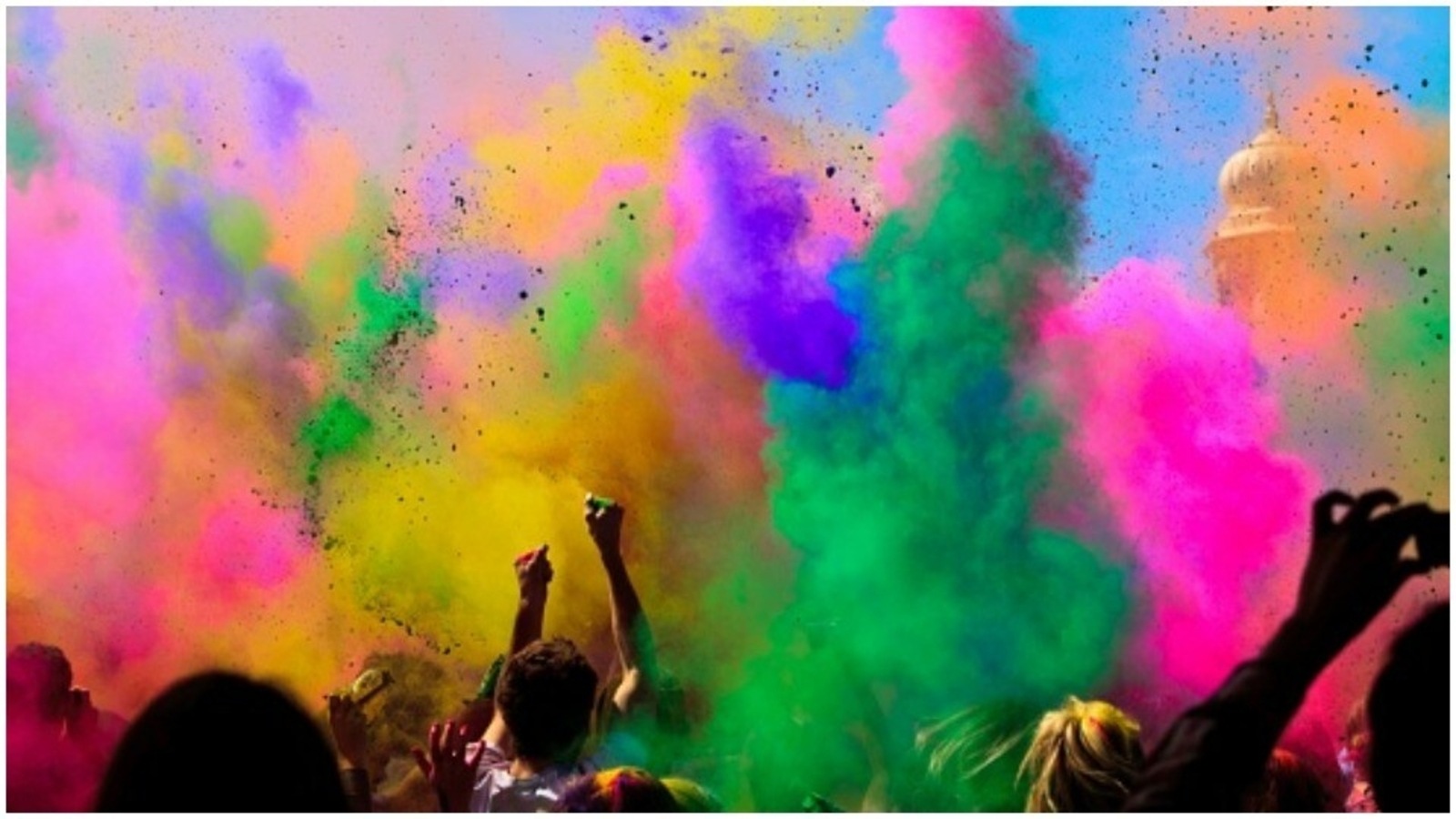 How is Holi Celebrated?
Holika Dahan
On the night before Holi a bomb fire is lit signifying the moment when Holika was consumed by the fire in which she tried to kill her nephew Prahalad. 
The ritual symbolises the victory of good over evil and people sing and dance around the fire.  We actually celebrated Holika with some locals who are now lifelong friends while doing a Workaway in Delhi, you can see that video here: 
Playing with Colours 
The second day of Holi is celebrated when people gather and apply colours to one another.  Children also add water guns and water balloons to the mix filled with coloured water.  The streets are filled with laughter, music and dancing as people enjoy this festive and magical time. 
Bhang
Bhang is an ancient hindu drink that is always prepared and consumed during Holi festival in India.  Bhnag is actually a milkycannabisdrink that is flavoured sugar, fruit, and various spices. 
During Holi Bhang us widely available on street stalls and within local homes. We still don't understand the legality of Bhang, but the locals we met told us its widely tolerated by officials during holi festival due to its traditional and historical significance. 
Lathmar Holi
Lathmar Holi is a unique ritual celebrated before the official Holi event and only in the small towns ofNandgaon and Barsana in Uttar Pradesh, where Krishna was said to have been born and brought up. 
The ritual see's thousands gather in the Radha Rani temple in Barsana to witness local women beat up men with sticks.  People on the sidelines cheer on the women and sing Holi songs. 
Flowers Holi/Phoolon Ki
We were lucky enough to experience Phoolon Wali Holi otherwise known as Flowers Holi.  This is only celebrated in one place in India and that's the Banke Bihari Temple in Vrindavan, usually one or two days before the main Holi event.
It is a spectacular event in which everyone crams into the temple and hundreds and thousands of flower petals are thrown down onto the crowd.  It's a magical experience, but it does come with a price.
​We almost got crushed in the crowd and our phone did get stolen while in the temple. So before engaging, make sure you are fit and healthy and ready for the crazy crowds & leave your valuables at home. Would we do it again? No. Was it absolutely worth it for a once and a lifetime experience? Yes!
Flowers Holi
Where to Celebrate Holi Festival?
Holi Festival is celebrated across all of India and you will be sure to have an amazing time where ever you are, however here are some of the top rate places to celebrate the Holi Festival of Colours in India. 
Nandgaon – Uttar Pradesh:The Birth place of Lord Krishna, Nangaon is a small charming rural town and a perfect place to celebrate Holi.  People here celebrate Holi with so much enthusiasm and its a safe place to have a very traditional Holi experience. 
Barsana – Uttar Pradesh: Located very close to Nandgaon, Barsana is a unique place to celebrate Holi and is the only place to see the famous Lathmar Holi, where women beat men with sticks. 
Vrindavan – Uttar Pradesh: A very holy and ancient town which is the only place to experience flowers Holi.  Holi here can get very lively and a bit more crowded then the smaller villages of Nangaon and Barsana, but well worth the trip to experience flowers Holi. 
Jaipur – Rajasthan: Holi is celebrated with much enthusiasm across the entire city of Jaipur.  Jaipur is also said to host an elaborate elephant parade on the eve of Holi. If you head to Jaipur for Holi festival you will also see the night sky light up with fireworks and many performances by locals on the streets. 
Dehli: Delhi is a great place to celebrate Holi if you are into the party scene.  There are many organised parties and Holi Festival events across the city.  It's also a great place to come if you can connect with locals and have a very authentic Holi experience like we did with our Workaway hosts.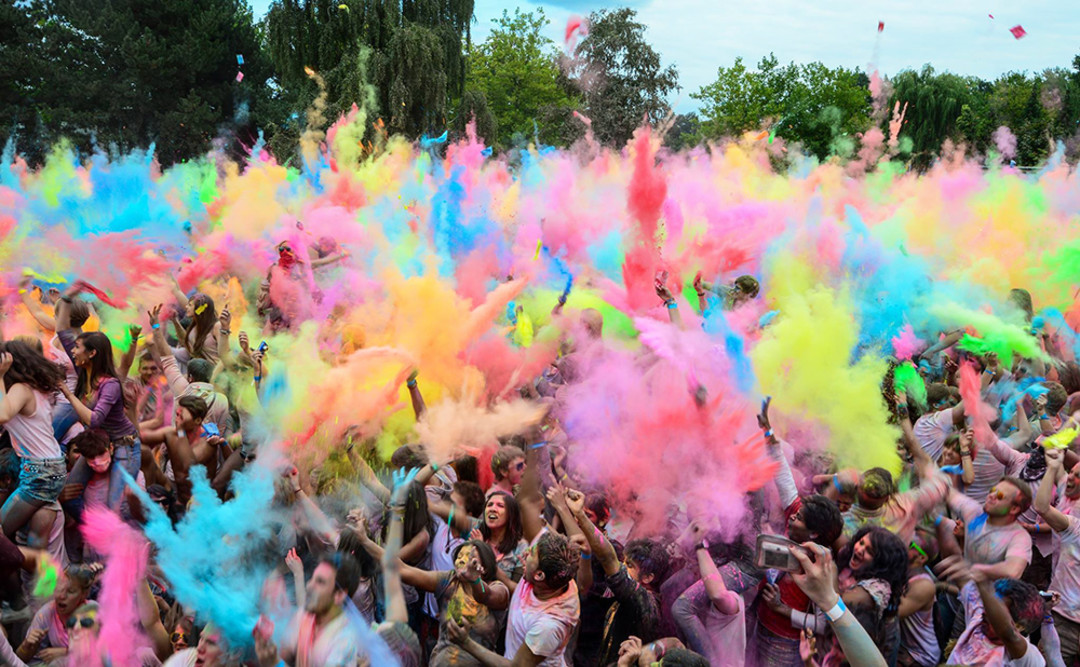 Purulia – West Bengal: Holi celebrations in Purulia last for 3 days and see the local and tribal artists perform incredible traditional dances and songs. You can also attend the famous Basanta Utsav folk festival making West Bengal a very different  and exciting place to experience Holi Festival. ​
Our Holi Itinerary:

​
Day 1 Where: Nandgaon Village – Uttar Pradesh India
When: 4-5 days before the official Holi date. 
We started our Holi experience in a small town called Nandgaon located 30mins from Mathura in the state of Uttar Pradesh. We actually attended during Lathmar Holi a few days before the official Holi event. 
 This was such a great introduction to Holi. A small hilly village which was bustling with Holi fever. It was super fun, beautiful and safe! Nandgaon is is the birthplace of Lord Krishna so Holi Festival is celebrated with so much enthusiasm here. 
Its a small rural town,  a  beautiful village with small windy alleyways and impressive architecture. The village was buzzing with music, dancing,  colour,  happy villagers and yummy street food!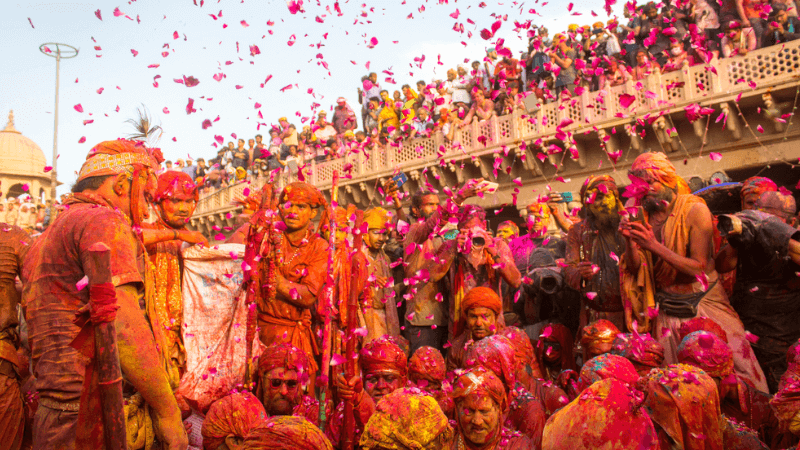 Holi Festival in Uttar Pradesh India
Day 2
Where: Banke Bihari Temple in Vrindavan, Uttar Pradesh India
When: 1-2 days before the official Holi date. 
We celebrated the spectacular flowers Holi in Vrindavan a famous religious town in India where eating meat is actually a crime!
As mentioned earlier in this article, Flowers Holi is an incredible experience where thousands of flower petals are thrown onto the crowds below in the ancient Banke Bihari Temple. 
The event is very crowded so if you are planning to attend, be prepared for the crowds and the heat! But it is totally worth it!
Day 3
Where: Delhi India
When: Official Holi date. 
We heard that things can get a bit crazy on the main Holi day in Vrindavan and crowds can get rowdy. So we decided to join our Workaway hosts in Delhi for the final day of Holi.
​This was such a nice contrast to our other experiences.  It was nice to be invited to a small local Holi gathering with a few friends involving water fights, food, colours and dancing! If you want to see more, this celebration is featured in our Delhi vlog.
Holi Festival India We hope this article has prepared you for your Indian Holi Festival experience. Do let us know if you have any more Holi questions or if you have any extra tips to share, we would love to hear from you.
Cheers, Native Travellers
​​INTREPID & OFF THE BEATEN PATH TRAVEL STORIES, GUIDES, TIPS & HACKS
| | |
| --- | --- |
| | Join the Native Travellers Journey and get off beat travel stories, guides and hacks. Plus we will send you a free Native Travellers music bundle! |