We spent 21 incredible days trekking the Annapurna Circuit from mid August until early September and it was truly one of the highlights of our lives. Trekking the Annapurna Circuit in August definitely comes with its pros and cons, but we believe the pros far outweigh the cons.
In this article we will go into detail about our experience trekking the Annapurna Circuit during August including why we recommend it and things to consider before you go.
Is August a Good Time to Trek the Annapurna Circuit? Tourist numbers are low during the month of August making it a great time to trek the Annapurna Circuit.  August is monsoon season in the Annapurna region which means rain and cloud cover is more likely for some of your trek. However, August can still be a great time to trek the Annapurna Circuit because much of the region is protected by a rain shadow all year round. 
Although we loved our time trekking during August and September, this time of year is considered low season for a reason. Many trekkers say to avoid the region during this time due to cloud cover, landslides and rain.
Our experience wasn't so dreary and depressing, in fact we experienced a memorable trekking experience that will forever be a travel highlight for us. In this post we will share our honest first hand experience on trekking the Annapurna during August. We include all the pros and cons to help you decide if August is the right time for you to take on this epic adventure!
Table of Contents:
Weather – Annapurna Circuit Trek Weather in August
Crowds – Annapurna Circuit Trek Crowds in August
Leeches on the Annapurna Trek in August
Views – Annapurna Circuit Trek Views in August
Prices – Annapurna Circuit Trek Prices in August
Conditions – Annapurna Circuit Trekking Conditions in August
What to pack for trekking the Annapurna Circuit in August
Annapurna Circuit Trek Weather in August 
We embarked on the Annapurna Circuit in mid August and trekked through to early September. Our Exact trekking dates were 18 Aug – 7 Sep. This might come as a shock to many, but we didn't experience much rain at all. I would estimate a total of 3-4 days rain across our total 21 days. So monsoon rains did not prove to be a big issue for us in mid-late August.
During these 21 days the weather conditions changed quite drastically as we moved through different regions and into different altitudes. So, we will break down the weather conditions by date and region to provide a bit of detail and clarity.
Day 1-6: Aug 18-23
Altitude: 1000-2600metres
Main trekking stops:  Bhulbhule, Ghermu, Tal, Chame
Temperature: 22-32°C
Rain: Light rainfall
Cloud Cover: 80-85%
The start of the trek was very warm, humid, lush and green. Temperatures started out quite hot, about 32°C on average for the first few days. Then the temperature gradually became cooler as we climbed to higher altitudes. Surprisingly, we had hardly any rainfall at all in these first few days, approximately only 3-4hours of light rain during the entire first 6 days of trekking.
Although there was a lot of cloud cover, we also experienced sunshine and did not miss any of the epic green valley views, hobbit-on like villages and gushing waterfalls. We did notice a few landslides from earlier in the monsoon season, but none of these landslides blocked our path or caused us any danger. Overall the first few days of trekking were pleasant, warm, overcast and relatively rain free.
Day 7-10: Aug 24-27
Altitudes: 3000-3500metres
Main trekking stops:  Upper Pisang, Ngawal, Manang
Temperature: 15-20°C
Rain: Light rainfall
Cloud Cover: 70-80%
As you climb to higher altitudes the temperatures will begin to get cooler ranging between 15-20°C…the perfect climate for hiking. During these days we again didn't notice much rain at all, although the cloud cover was still present.
However, we were still spoiled with epic views and we did begin to see some blues skies peaking through. Over all the weather was calm and mild, great conditions for trekking.
Day 11-14: Aug 28-31
Altitudes: 4000-5500metres
Main trekking stops:  Khangsar, Tilicho Lake, Yak Karta, Thorung Phedi, Thorong la pass
Temperature: 5-15°C
Rain: Moderate rainfall
Cloud Cover: 70-80%
Annapurna Circuit Trek Day 11-14

Annapurna Circuit Trek Day 11-14
As you reach the higher altitudes you will begin to feel the cold. Although chilly we didn't experience any extremely cold temperatures and there was no snow at the time, 5°C was about as cold as it got. As for rain and cloud cover these few days were a bit of a mixed bag. Some moments we had great clear skies and other moments we had rain and wind.  I think the wild changing weather comes with being at such high altitudes.
It was in these few days that we experienced the most rain with two days of rain lasting about 4hours each day. On the day we crossed Thorong la pass we had the worst weather we had encountered yet with rain, cold and wind! Overall these few days proved to be sketchy weather wise, but it all added to the adventure for us!
Day 15-19: Sep 1-5
Altitudes: 4500-2500metres
Main trekking stops:  Muktinath, Kagbeni, Marpha
Temperature: 12-25°C
Rain: Zero rainfall
Cloud Cover: 5-20%
Welcome to the rain shadow and to some of the most epicly rugged and beautiful scenery on earth. It was here where we encountered beautiful blue skies, full mountainous views and calm, mild weather. Depending on the time and the day temperatures could shift from cool to warm within the range of 10-25°C.
Day 20-21: Sep 6-7
Altitudes: 2000-12000metres
Main trekking stops:  Ghasa, Tatopani
Temperature: 22-30°C
Rain: Light rainfall
Cloud Cover: 30-50%
In this section of the trek the altitude lowers moving into more tropical weather with more humidity and higher temperatures. Day time temps hovered around the mid-high 20s and it generally cooled down in the evening to the low 20's. Overall the weather was warm and calm but we do remember a few light rainfalls.
Although we did not experience any heavy rain there must have been a big downpour before we arrived because we came across one section of flooding which meant the track was under water. However the friendly locals showed us an alternative route without any major issues, but it did get very muddy during one section there!
Annapurna Trek Crowds in August
The absolute best reason to trek the Annapurna circuit in August is to beat the crowds. If you are like us, we prefer less crowds so that we can enjoy the natural beauty of a place, especially when trekking.  We met a few travellers who had told us their stories about trekking Annapurna in high season. They warned us of thousands of trekkers and tea houses becoming so overloaded that guest ended up sleeping on dining room floors. This is not our idea of the ultimate adventure, so we decided to skip high season and trek in peace.
During August you will meet other trekkers, however numbers are significantly less during August and early September.  Another pro to less trekkers is that you do not have to worry about tea houses becoming full and your trekking experience is much more relaxed. We loved the peacefulness of trekking Annapurna in August and recommend it to those wanting a more relaxed authentic experience.
Leeches on the Annapurna Trek in August
Yes there were lots of leeches and yes they were grose! But are there more leeches on the Annapurna Circuit during monsoon? Time to bust this myth! You will find the same number of leeches in October (high season) than you will in August! How do we know this? We met another trekker named Jack during our August hike who we ended up becoming a good friend of ours.
A few weeks after returning to Pokhara, Jack decided he was going to do the entire trek again, this time in October which is considered one of the high seasons for the circuit. He tells us the leeches were just as bad second time round, so don't let the idea of leeches put you of trekking in August, you are going to get them anyway…..haha!
The leeches are only found in the lower altitude areas of the trek. You will usually notice the leeches when you take off your socks after a long days trek. Don't panic and don't pull them off, this can lead to excessive bleeding.  The leeches are quite small and harmless and will usually drop off on their own. If they don't, just grab some salt and they will come away easily with no extra bleeding.
Annapurna Trek Views in August
No matter when you decide to do the Annapurna circuit, you will be blown away by the views. Every corner is a new surprise and the scenery changes so drastically along the journey. Overall we did feel like we missed some mountain peak views near the start of the trek due to the overcast weather.
However, even with the first part of the trek being mainly overcast we were still blown away by the views, stone villages, waterfalls, rivers green lush valleys.  During August you will be treated to vibrant pink fields of buckwheat which is an incredible sight!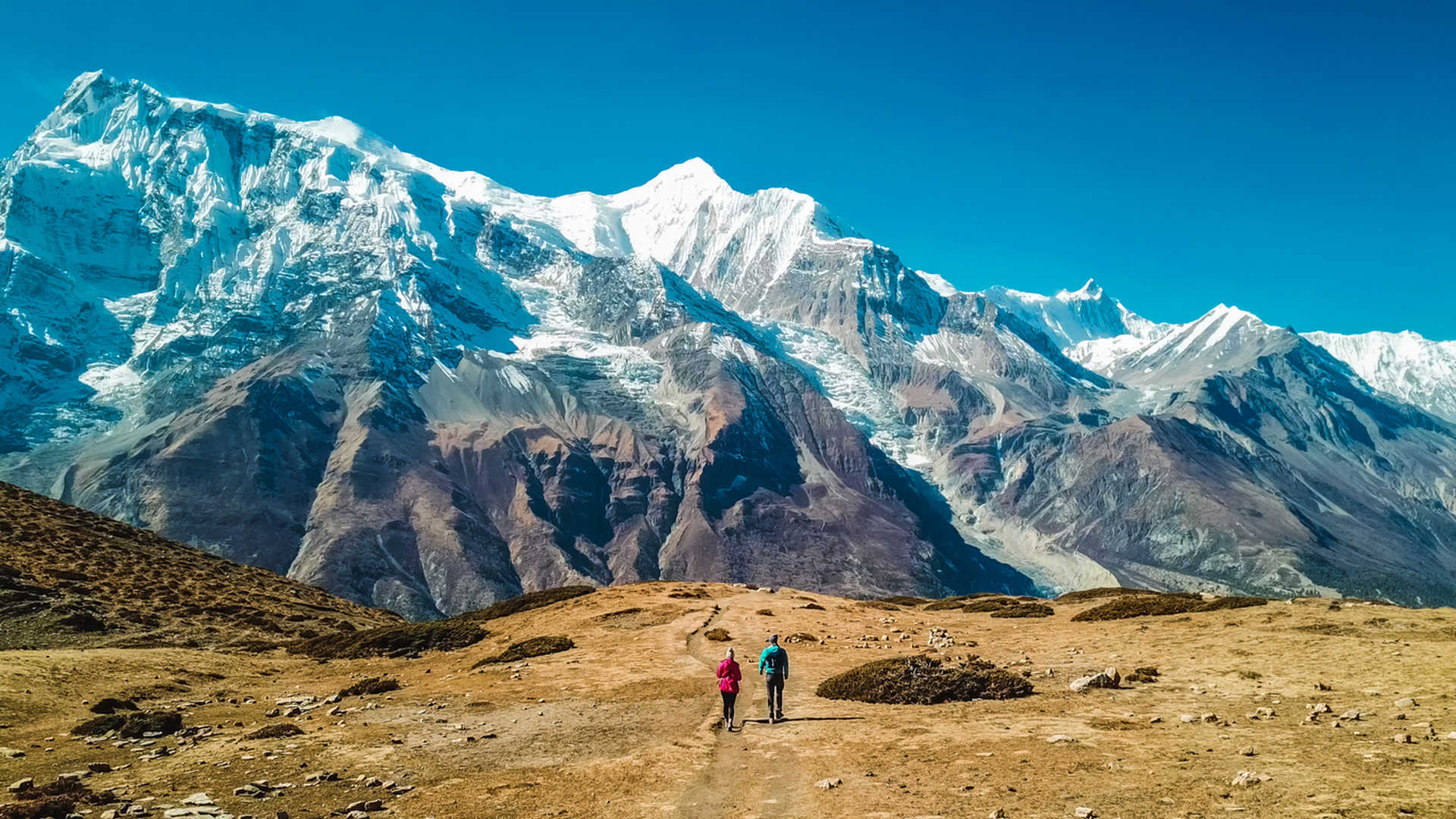 The best thing about the Annapurna Circuit is that the middle section near the mustang region is protected by a rain shadow all year round. So no matter what time of year you decide to trek you will still get those epic blue skies views for at least part of your trek.
For some of the most beautiful views and villages during August we recommended to do some side treks, you can see our recommended list of side treks here.
Annapurna Trek Prices in August
Due to August being the low season, we were able to negotiate all our tea house stays. Most tea houses would rent your bed for free as long as you purchase food and drink from them. This was a great money saver and we got this deal at all tea house stays except one in Thorung Phedi.
If you don't hire a guide (you don't need one) then food and drinks will be your main costs during your trek. Food costs were fairly high, especially at the higher altitudes and we doubt the food prices change much change from season to season.
You should budget 3000NPR/$25USD per person per day to cover your food costs for the trek. But due to no ATM's along the trek, (except in Jomsom) we recommend you take enough cash for 3500NPR/$30USD per day.
Before staring the trek we had read in other blogs that there were ATM's in certain villages, but there was no access to cash and we actually ran out and had to borrow of friends we met! So, make sure you cash up and take enough to cover your entire trek plus a little extra for a rainy day.
Obviously you can do the trek for much cheaper than $25 per day if you keep to cheap meal options such as soup and don't buy drinks, but this all depends on your personal travel style and your budget. $25USD per day will let you eat well and enjoy a beer or two and a few Snickers bars along the way!
The list below will give you an idea of prices for food along the trek:
Soft Drink: 220NPR / $2USD
Water: 100NPR / $.088USD
Beer: 600NPR / $5.20USD
Snickers bar: 200NPR / $1.75USD
Soup: 200NPR / $1.75USD
Omlet: 250NPR / $2.5USD
Pancakes: 250NPR / $2.5USD
French Fries: 400NPR / $3.5USD
Fried Noodles: 350NPR / $3USD
Oat porridge with Fruit: 400NPR / $3.5USD
Momos: 450NPR / $4USD
Yak Burger: 800NPR / $7USD
Dhal Bat Set: 500NPR / $4.40USD
Annapurna Trekking Conditions in August 
Trekking conditions in mid-late August were not as dramatic and dangerous as we have read on other blog posts. We didn't experience any major safety issues during our entire trek. There were a few fallen landslides that were easy to pass and we did experience one small area of flooding, but nothing dangerous that got in the way of completing the trek.
Trekkers need to be prepared for all weather conditions, warm, dry, wet and cold as weather conditions change drastically as you shift into different altitudes. Maps and signs were very easy to follow and we managed the entire trek without a guide. All in all, we felt very safe trekking Annapurna in August.
What to pack for trekking the Annapurna Circuit in August 
When preparing for your Annapurna Circuit Trek, it is important to keep your pack as light as possible and only pack things you really need. To help you out, we have conducted this full list of what you will need to pack for trekking the Annapurna Circuit in August.
1. Water Filtration
During August a lot of the water stations are not yet set up, many of them open in October for the start of high season. So you will need to carry a water filtration system. There are plenty of village taps and mountain stream to fill up your bottle along the journey.
You can buy bottled water along the trek, however this produces a huge plastic waste problem for this remote region. So if you want to do your bit and have less impact on the local environment then pack an easy to use water filtration system. We used the Grayl filtration bottle and can't recommend it enough. It was very easy and quick to use and cleans any water to 99% purity in a matter of seconds. Read our full review of the Grayl bottle here.
2. First Aid Kit
It is important to take a small first aid kit. Your first aid kit will most likely get used for small scrapes injuries for not only you but also fellow trekkers. We recommend a good basic first aid kit with the following additions; hydration salts, paracetamol, bandage, altitude sickness tablets and antiseptic cream. Here is a link to a good compact basic first aid kit >>>
3. Battery Bank
Although most tea houses have power access to charge your devices, a battery bank will still be a great thing to carry with you. We used ours to charge our phones and cameras almost everyday along the trekking route. This is a good quality battery bank with great reviews on amazon >>>>
4. Travel Umbrella
An umbrella might not be the first item that comes to mind when you think of trekking, we we found our travel umbrella's super useful. Our umbrellas were a great extra layer of protection from rain while trekking, but make sure you keep it compact and lightweight. Here is a good compact This umbrella is super light weight and compact & all you will need along the trek >>>
6. Plenty of cash
Despite what you may read,  there is only one village with a working ATM along the entire trek (Jomsom). So it is really important that you take enough cash to cover your daily expenses, plus extra as a buffer. As mentioned earlier in this post, we recommend to take at least $30USD per person per day to cover your food expenses (this amount includes a buffer)
7. Insect repellent, lip balm & sunscreen
These items are must haves for your trek. For the lip balm we recommend the Himalayan brand that you can purchase in Kathmandu or Pokhara. We even purchased extra to take back to NZ with us it was thats good!
8. Waterproof Camera
A waterproof camera is not a necessity, but we recommend this if you plan on capturing moments along the trek. We also advise against taking your heavy and expensive camera, it will not be fun carting such a heavy, delicate and expensive item around.
We took the super durable Gopro and it meant we could capture all the moments without the worry of damaging an expansive camera. It was so easy to have a compact, sturdy, water proof camera during the duration of the trek. You can read our full Gopro review here >>>>>
9. Travel Towel
There will be no towels provided by tea houses so it's important to take your own. For obvious reason we recommend to trek with a light weight fast drying travel towel, here is one with excellent reviews >>
10. Annapurna Circuit Map
It is super helpful to have an up to date Annapurna Circuit trekking map. We used ours every single day to track our process and to plan our next stops. You can buy the most up to date versions in Pokhara before you begin your trek.
11. Clothing
It is important to know that you will encounter all types of weather, so you need to pack accordingly. You will need to hand wash your clothes as you go or you can pay for this service at the tea houses.  The following items will have you covered for the Annapurna Circuit Trek in August:
1x Sun Hat
1x Winter Beanie
1x Waterproof gloves
1x Sunglasses
1x Neck cover
4x Good quality hiking socks
5x Underwear
3x Easy dry T-Shirts
2x Merino or Thermal long sleeve layer
1x Merino or Thermal leggings
1x trekking shorts
2x trekking pants
1x Flip Flops
1x Trekking shoes
1x Bathing suit (for hot pools)
1x Compact warm jacket
1x Raincoat – we recommend the large poncho's style ones (great extra protection for keeping you & your bag dry)
We hope this extensive and honest guide to trekking the Annapurna Circuit in August was helpful and has encouraged you to take the plunge and beat the crowds! If you have any other questions related to this topic feel free to leave a comment below and we will answer your questions as best we can. We also have a couple of other article that might be helpful to you below:
Top Unmissable Annapurna Circuit Side Treks
How Many Days to Trek the Annapurna Circuit?
Cheers, Native Travellers
​​INTREPID & OFF THE BEATEN PATH TRAVEL STORIES, GUIDES, TIPS & HACKS
Join the Native Travellers Journey and get off beat travel stories, tips and hacks. Plus we will send you a free Native Travellers
music bundle!

YES! LETS JOIN THE JOURNEY