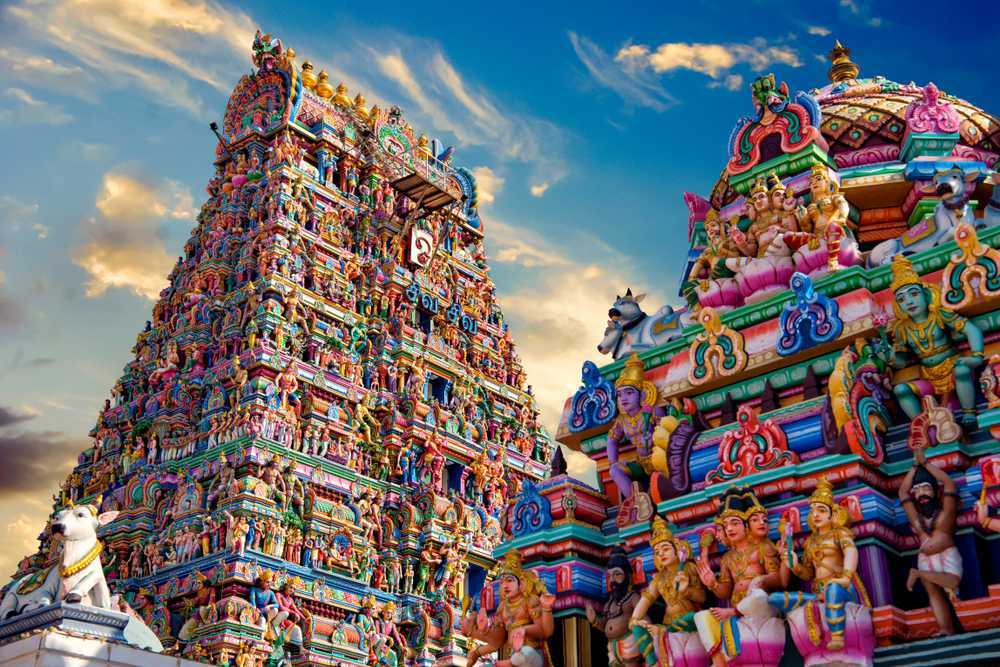 Chennai
Want to know all the best Chennai attractions and have access to a full Chennai travel guide? Good news, we did the work for you and have compiled all the information you need into one helpful article. In this Chennai travel guide we will cover the top attractions in Chennai, a list of Chennai festivals, the best modes of transport, some Chennai travel tips and the best places to stay!
​
– Chennai Attractions
– Chennai Festivals
– Chennai Travel Tips
– Chennai Transport
– Chennai Accommodation
As a travel destination we 100% recommend to add Chennai to your south India adventures and we hope this travel guide will help you have the best Chennai trip possible. 
Chennai, the laid back, but culture dense capital of Tamil Nadu south India. When we think of our time in Chennai we get the warm fuzzies. We spent a total of 5 months travelling across India and to be honest Chennai was not a place on our must see list.
We only visited Chennai because our flights to Sri Lanka were departing from there,  but we ended up spending 8 incredible days in this beautiful city and we are so glad we did!
We took an instant liking to Chennai, when first arrived the main thing we noticed was the tropical vibe. The city was warm and humid with so many lush green trees and the smell of beautiful fresh jasmine flowers filled the air.  (south Indian women wear fresh jasmine in their hair)
This coastal metropolis has held a tight grip onto its cultural way of life and if you want to experience an authentic south Indian city that has some great attractions, but has not been over run by tourism, then Chennai is a great place to visit.
It's fair to say that Chennai is a truly off the beaten path tourist destination, and we love getting off the beaten path, it's one of our favourite things to do! When we visited we saw no other foreigners for the entire 8 days and we noticed the food was not tamed down for tourist and there were no touts or scammers in sight!
Perhaps the most memorable thing about our time spent in Chennai was the people. They are truly so kind, honest and helpful. We actually Couchsurfed with a local family in Chennai which also made our time extra special you can see that video here:
Chennai Attractions:
This ancient Hindu temple towers over the city and is a must see Chennai attraction. The temple which dates as far back as 7th century BC is beautifully detailed and brightly coloured, in true south Indian architectural style. Take a walk around the temple grounds and you will see beautiful shrines and devotees worshiping. The streets near the temple are also vibrant and great to explore.
Infront of Kapaleeswarar Temple

Inside Kapaleeswarar Temple

Kapaleeswarar Temple
Mahabalipuram is located 1.5hours south of Chennai and is a great day trip from the city. ThisUNESCO World Heritage Siteis an ancient site that boast over 400 impressive monuments and temples.
Dating back to the 7th century bc the stone carved monuments are still in amazing condition.  We spent a whole day exploring Mahabalipuram and were impressed with the carvings. The great thing about this Chennai attraction is that many of the sights are actually free to visit. You can see our Mahabalipuram adventures in our travel video here.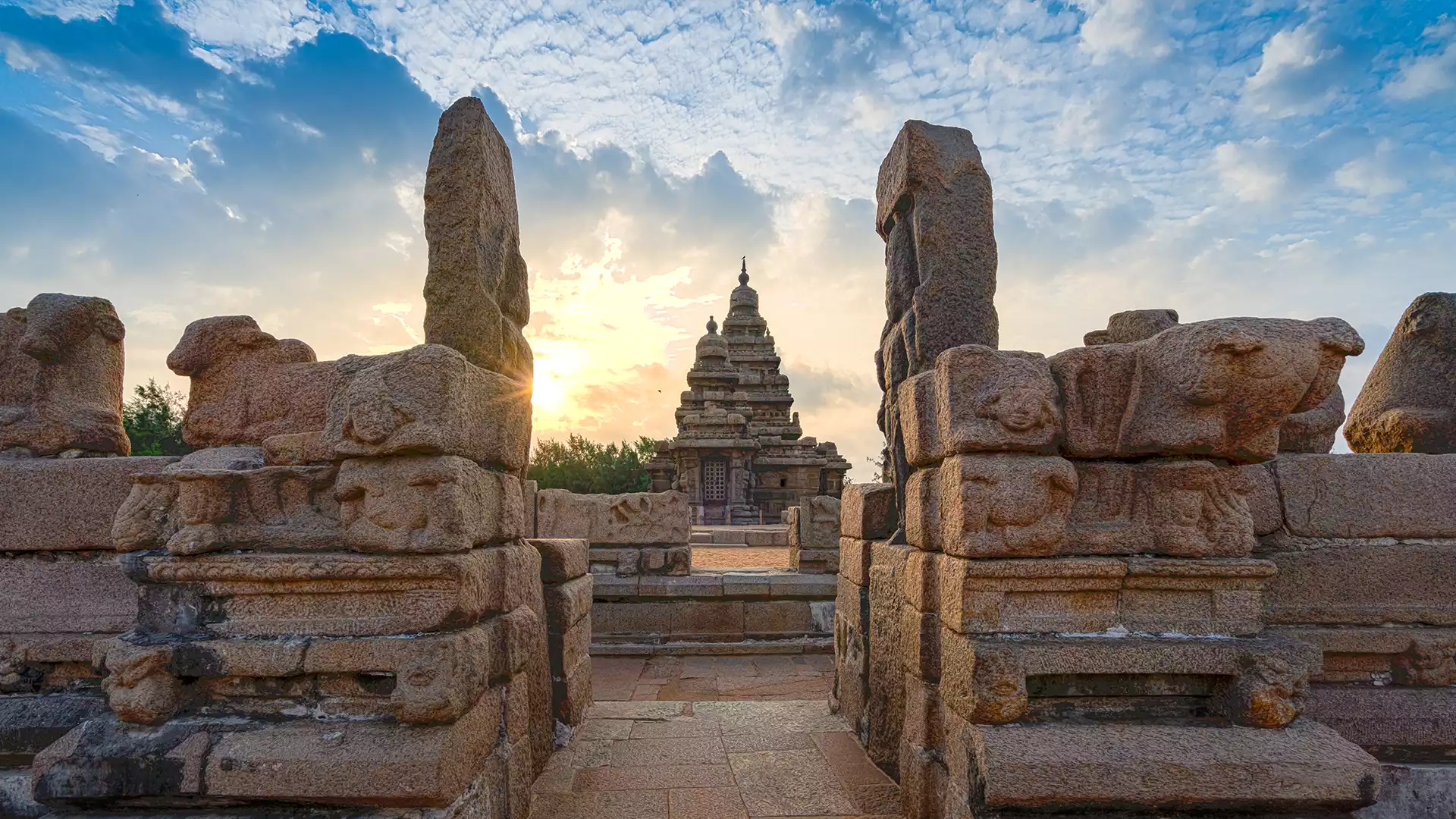 Mahabalipuram
Our visit to Ramakrishna Temple was actually a highlight for us. This is a mediational hall and everyone is welcome. We went just before dusk and it was a beautiful time to visit.
The grounds of the temple are very peaceful with beautiful gardens to enjoy.  If you like to meditate and/or if you want to visit a beautiful peaceful place within the city then we recommend to Ramakrishna Temple.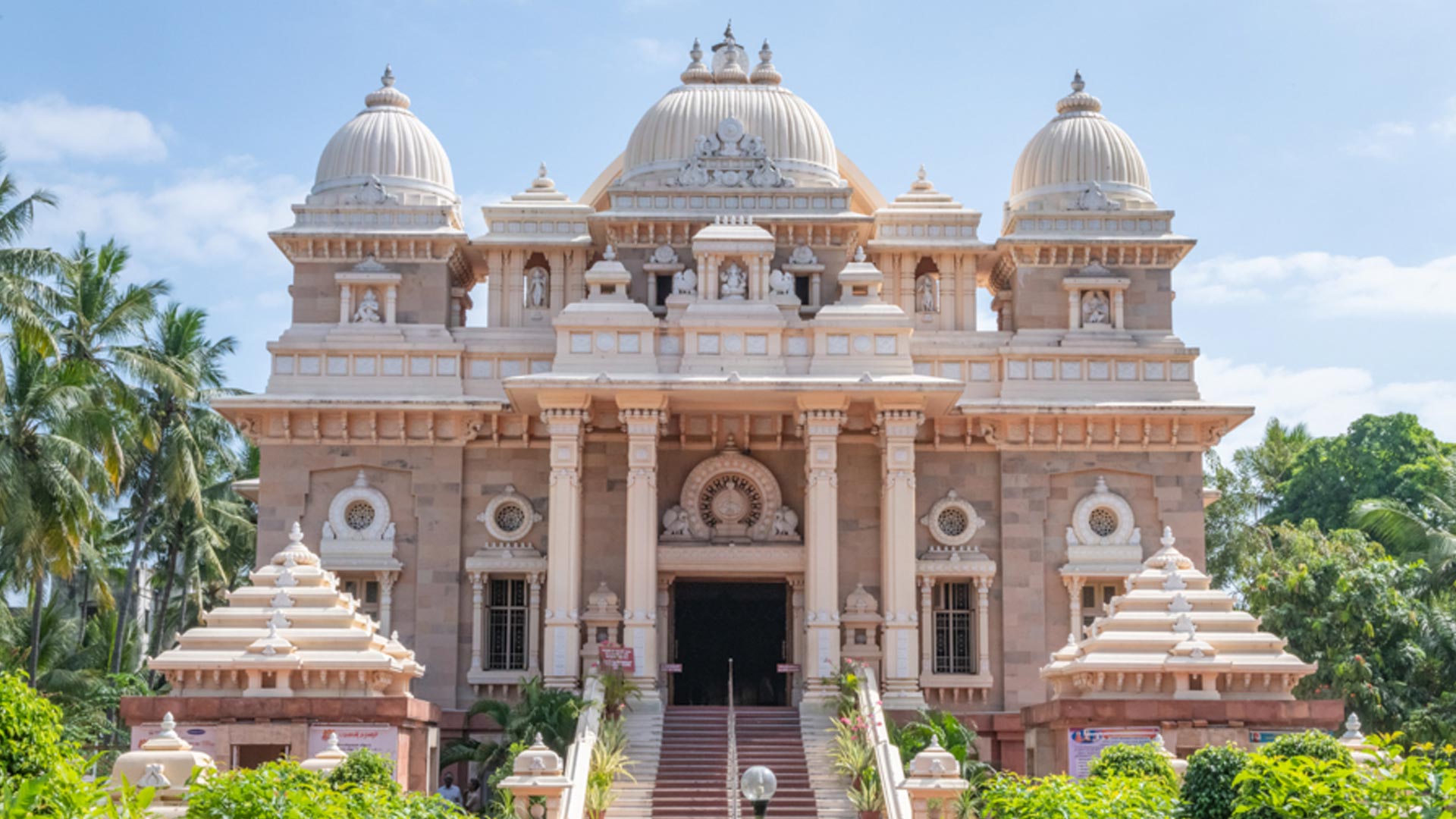 Ramakrishna Temple
The white sandy beaches of Chennai are nice to visit during the day, but they come to life at night! Both Marina and Elliots beach turn into lively street food markets in the evening and are great places to try some new and exciting south Indian foods.  We enjoyed the atmosphere and tried lots of delicious snacks, drinks and foods.
Said to be built over the tomb of St Thomas, this 16th century roman catholic cathedral was built by portuguese explorers. The church is grand in structure and is quite an impressive sight from the inside.  It's was interesting to see such diversity in architecture within Chennai. We visited in the evening and got to witness locals singing during a mass which was nice.
St Thomas Cathedral
Exploring local markets is one of our favourite things to do while travelling because it's a great way to witness local life. Chennai is home to many great local markets just waiting to be explored and you can usually stumble across them while exploring the city and getting lost. That's exactly how we found a fascinating veg market tucked away in some Chennai back alleys. We have also found this great list ofmarkets in Chennai to help you out in your local market hunt.
Man making banana leaf plates in Chennai

Shopping at local market in Chennai

Meeting locals in Chennai

Local Market in Chennai
Discover Colonial Chennai
As well as the ancient dravidian buildings and temples in Chennai, you may notice some heritage buildings that are a remanence of British influence. This mix of architectural styles from different eras and cultures is part of what makes Chennai so unique.  Some impressive colonial buildings to be discovered include, Victoria Hall, the Ripon Building, the Government Museum, St. George town Hall and Connemara Public Library.
Chennai Festivals:
A significant harvest festival to worship the Sun God. Pongal is a four day festival usually celebrated from January 14 to January 17.  The festival is celebrated with much enthusiasm and you will see many colourful and festive rituals and celebrations.
Some things to look out for during Pongal are the making the Pongal Kolam, beautiful murals drawn on the floor using coloured rice flour.  You will also notice cows and farm animals are elaborately decorated on the third day of the festivals called called Mattu Pongal.
A colourful procession of 63 bronze idols through the streets of Mylapore in Chennai. An extravagant and elaborate sight and a must see if you are in Chennai during the months of March and April.
Chennai Music and Dance Festival
A lively cultural festival which showcases south Indian classical music and traditional dance. Held during mid December to mid January and celebrated in various venues across Chennai.​
Natyanjali Dance Festival
This is a 5 day festival which showcases traditional south Indian dance. Over 300 dancers gather in Chidambaram, near Chennai to perform in this cultural festival dedicated to Lord Shiva.
The ancient Chidambaram temple is an incredible background for the festival and although it is located about 4.5hours from Chennai, it is a must see event if you have the time.Upcoming dates for the festival:
2019- 4 -9 Mar
2020- 21-27 Feb
2021- 11 -16 Mar
2022- 28 Feb – 5 Mar
Chennai Travel Tips:
One of the best Chennai attractions is the food! South Indian cuisine is unique and equally as delicious, with must try classics like banana leaf thali, dosa and idli. So eat up and don't be afraid to experiment and try new and interesting foods. 
Our hosts took us to drink a Chennai speciality called rose milk, it was literally like drinking a rose flavoured milkshake, delicious! You will find food in the south has a lot of coconut flavours and dishes are lighter than in the north. For a more detailed guide to South Indian cuisine, we found this great article. ​
| | |
| --- | --- |
| Chennai Rose Milk | Chennai Rose Milk |
Chennai is a fairly conservative city and it's advised to respect local customs and dress modestly.  For women having your shoulders, chest and legs covered is ideal.  We suggest buying a traditional kurta, I lived in these while in India, they are very comfortable, modest and elegant. For men having your legs covered in temples is required or you will be refused entry.
​
You will surely bring smiles to locals faces if you make the effort to learn a few words in the local tongue of Tamil. We usually learn on youtube, there are lots of helpful and quicktamil tutorials to help you out.Some greetings to learn in order of importance are:
– Hello
– Thank you
– How much?
– What is your name?
– My name is
– Nice to meet you
It's important to note that in Chennai and the wider state of Tamil Nadu, they have a no foreigner rule for some Hindu temples. While foreigners are allowed access to festival grounds, in some cases foreigners are not allowed access into the inner part of the temple itself.  We respected this rule and were fascinated to hear the reason why from our local hosts.
Rumor has it, a few hundred year ago or so, a french man gained the trust of locals and became a hindu, only to eventually steal a precious diamond from the temple and take it to France.
​Please also note you will be required to have your shoulders and legs covered before entering any temple grounds within India. Shoes are also not allowed to be worn inside any temples across India.
​
Apparently it's illegal to smoke in public places in Chennai. We are non smokers, so this didn't affect us, but if you are a smoker then leave this for your private abodes or you could get hit with a fine from police.
Chennai weather is generally very hot and humid, so it's important to keep hydrated and be prepared for the heat. Below we have outlined the three main seasons you will find in Chennai, to help you with your trip planning.
Nov-Feb:Considered Chennai's winter months with temperatures ranging from mild to hot. Cooler temperatures makes this a great time to visit Chennai and it is also considered the festive season for the city.
Temp: 20-25℃.
Mar-Jun:Summer in Chennai, this is when we visited and it was VERY hot and humid. However you can expect to find cheap hotel deals during this time.
Temp: 30-45℃.
Jul-Sep:Monsoon season in Chennai and you can expect heavy rainfall and strong winds with temperatures cooling down. Chennai has also been prone to floods in the past so we suggest to avoid visiting during these months if possible. 
Temp:28-35℃. 
For more travel tips to help you with your India trip you can read our other helpful articles
Indian trains explained
15 tips for travelling India
How to avoid travel scams
Transport in Chennai:
Travelling within the city by train is very efficient and cheap, plus it gives you a great insight into local life. This is how we traveled around the city and it was very easy to navigate.
We found the train a lot less complicated than using the bus system.  You can see the metro stations on google maps which is helpful, trains run from 5am to 10pm, trips cost between Rs5-70 depending on the route you take. 
| | |
| --- | --- |
| Chennai Metro | Chennai Metro |
Rickshaw
Travelling by Rickshaw is super fun and cheap, but it can come with its challenges, such as the language barrier and having to negotiate. It's important to ask a trusted or unbiased local what a fair price would be before you start negotiating.
It's also important to have a clear landmark so your driver knows where you are heading, it's very rare that drivers will know street names & numbers. So if your destination is 50 metres from the Chennai Marina Lighthouse then tell your driver this and advise them where to drop you when you arrive.
Bonus tip: Use the phone app Mapsme (works offline) to navigate while in the rickshaw to ensure your on the right path.
Uber
Uber is super popular in Chennai and its the preferred mode of transport for many locals. This is probably the most convenient way to get around if you have a local sim. You can even order a rickshaw via Uber in Chennai! Uber gets rid of all the hassle of needing to negotiate or explaining your destination, so it's a great convenient transport option.
Recommended Chennai Accommodation:
We have done the research for you and found these toprecommended ​accommodation options in Chennai.
BUDGET




Hostel 11 Elliot's Beach, 

A clean and comfortable hostel will a relaxed vibe. This place is great for meeting new people and it has a very friendly owner. The location is great with lots of good food options nearby.

Rs600/$8.50USD

Hostel 11 Elliot's Beach
MIDRANGE




Alpha Land Service Apartment,

this place has an excellent location and friendly hospitality. The rooms are homely and comfortable with delicious food on offer, great value for money! 

​

Rs2500/$35USD

Alpha Land Service Apartment
LUX




Trident Chennai,

 a five star luxurious hotel with a peaceful atmosphere to help you enjoy and relax. The Trident Chennai features outdoor pool, garden, fitness centre, restaurant and health spa.

Rs7000/$98USD

Trident Chennai
We hope this Chennai travel guide was useful! If you have any other questions please let us know in the comments section below and we will be happy to answer as best we can, we are here to help!
​Cheers, Native Travellers
​​INTREPID & OFF THE BEATEN PATH TRAVEL STORIES, GUIDES, TIPS & HACKS
Chennai
| | |
| --- | --- |
| | Join the Native Travellers Journey and get off beat travel stories, guides and hacks. Plus we will send you a free Native Travellers music bundle! |