Couchsurfing in India is a great way to get to know the place. Our first few nights in India were spent couchsurfing with a wonderful family in Hyderabad. It was like a soft landing to this wild and beautiful country and we are so glad we had our couchsurfing hosts to help us adapt to India and its culture.
In this article we share our Indian couchsurfing experiences and teach you the best tips to help you get the most out of your couchsurfing experience and most importantly stay safe while doing so!
Couchsurfing in India – is it Safe? Yes, couchsurfing in India can be very safe and can lead to a rich and enjoyable travel experience. India in general is a very safe country to visit. However, couchsurfing in any country comes with its risks. So it's important to know how to use couchsurfing safely so you can have an enjoyable and safe couchsurfing experience while in India.

Believe it or not, despite the rumours, India is a very safe country to travel to. You can read more about this topic in our article titled What is India Really Like to Visit.  Couchsurfing can also be safe and after three wonderful couchsurfing experiences in India we have lived to tell the story.
Read on to find out more about couchsurfing in India and our top tips to keep you safe. You can also see one of our Indian couchsurfing journeys captured in video below:
Is Couchsurfing in India Safe?
The easy answer is yes, couchsurfing in India can be very safe and can also lead to some of your most memorable travel experiences. You may also make lifelong friends…..we did! Those friends are actually making the trip to New Zealand to visit us in a few weeks time.
We had three couchsurfing experiences in India and all three were absolutely amazing. Our hosts welcomed us with open arms, shared details about their culture, gave us gifts, treated us to authentic local food, took us out for dinners, shared local travel and safety tips and showed us around their wonderful neighbourhoods.
However couchsurfing in any country comes with it's risks so it is important to take your personal security seriously so that you can stay safe while enjoying the awesomeness of Couchsurfing!
When couchsurfing in India there are some guidelines you must follow to avoid having a couchsurfing horror story to tell! It is also important to mention that solo female travellers should take extra precautions when couchsurfing alone and should follow our tips below carefully.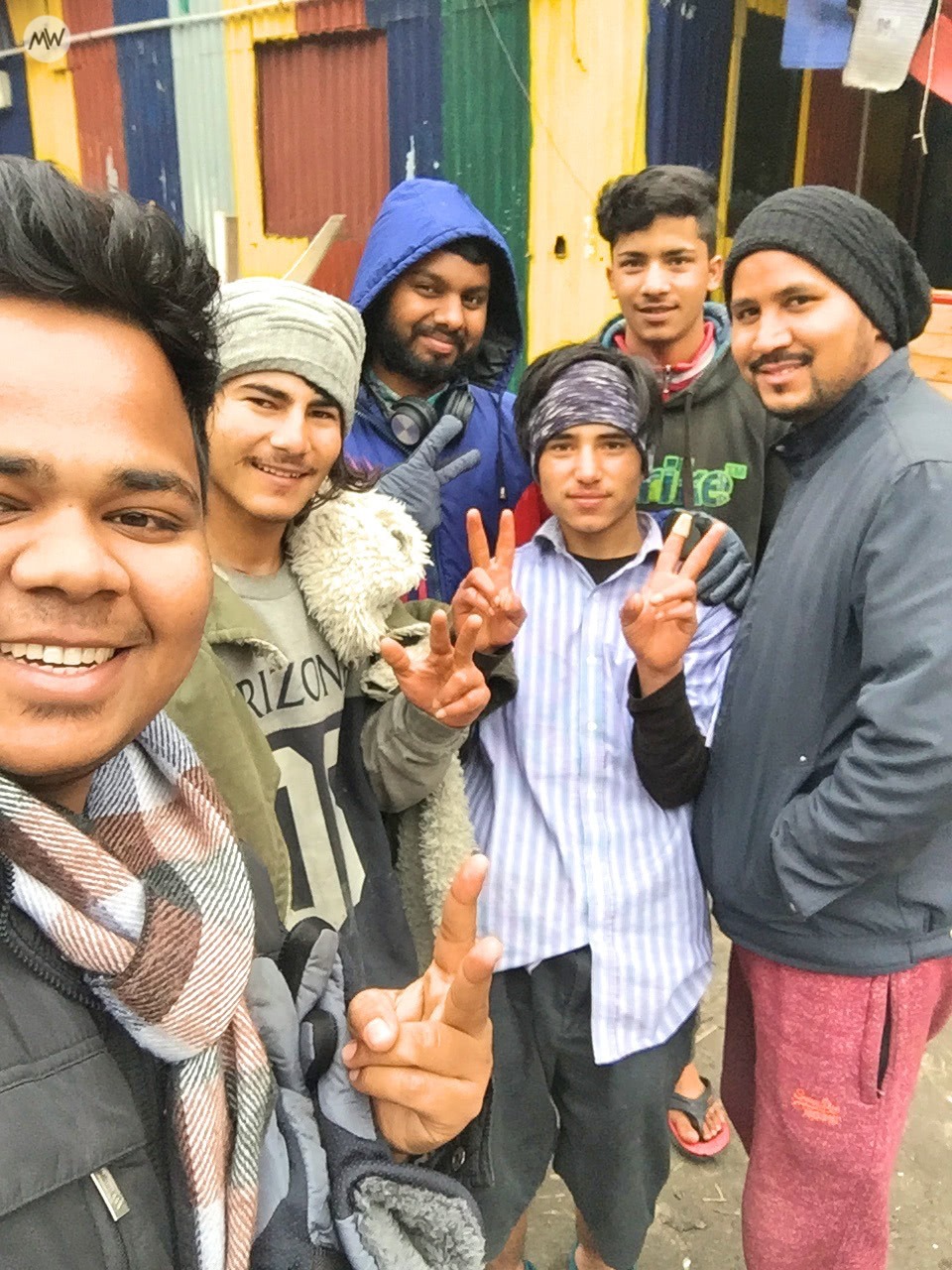 1. Stick to Families, Couples and Females:
This tip is particularly important for solo female travellers. We recommend for safety reasons to choose hosts that are families, couples or females. This isn't to say that all male hosts are dangerous, but it is a way to better insure your safety in those rare cases that a male host might not have such good intentions.
We have heard a couple of horror stories from solo female and male travellers where their male hosts has attempted to make sexual advances on them. So sticking to our rule of families, couples and females will help avoid a situation like this!  We stuck to this tip strictly and it worked out well for us every time!
2. Choose a Host That Can Provide a Private Room:
We know it's called couchsurfing, but many hosts offer private rooms and this is really the best kind of host you can find. Having your own room limits the risk that you end up sharing a bed or room with others and this can make you feel more comfortable and more safe.
3. Read The Reviews:
This one might be obvious but it's also so important that we need to include it on this list.  Probably the most important thing you can do when searching for a host is to read the reviews thoroughly.
Make sure the reviews are positive and look out for any subtle hints of a red flag.
Many reviewers don't want to be rude, so they might not be so obvious in their comments, so learning to pick up on subtle hints and reading between the lines can be helpful. It's also advisable to only accept invitations from hosts who have at least three reviews.
4. Listen to Your Instincts
This one is simple, trust your gut. If you feel uncomfortable in a couchsurfing situation don't be afraid to say no and leave. Your gut instinct can be a very powerful tool, so making sure you pay attend to it, it can help you get out of a sticky couchsurfing situation.
5. Share Your Plans
During travels we recommend sharing your itinerary with a friend or family member. This is the same for couchsurfing, making sure a family member knows the address and name of your host is important.
6. Read the Profile Thoroughly
Making sure you read your hosts profile in full is super important. You can get a real feel for a person through their profile.  Some profiles will make clear statements indicating their reasons for being on couchsurfing, the house rules and their personal beliefs.
These are all key indicators to help you make the most informed decision on who you choose to be your host. Be aware of unfinished profiles, we  only stay with host who have fully completed profiles and lots of pics!
7. Avoid Couchsurfing at a Guest Houses
Some Indian guest houses will list their rooms for free in the hope that you will purchase other services such as safaris and tours.
Avoid this, this is not an authentic couchsurfing experience and you will feel pressured into unwanted services. These types of hustling hosts may even lure you into an organised scam.
8. Connect on Social Media
Connect with your host on social media before you stay to get an insight into who they really are. There is so much you can discover by seeking out your hosts facebook pages and overall it will ensure you feel comfortable staying with them.
Some hosts mat also insist you connect with them, in-order for them to sus you out as well!
9. Don't Settle
If there are no suitable hosts in the city or town you are visiting then do not Couchsurf…we repeat DO NOT COUCHSURF. Don't settle for a host with no reviews or whose profile seems a bit dodgy…just don't.
Your safety comes first, so if you find yourself with no potential host we recommend to just pay for a private room at a hotel, guesthouse or home stay.
Alternative to Couchsurfing in India
Home stays can be a great alternative to couchsurfing in India. Home stays provide that raw, authentic Indian experience, much like you would experience from Couchsurfing. We enjoyed staying in both home stays and with couchsurfing hosts during our time in India. So see below a couple of our top recommended Indian Home stays.
Holly Hills Home stay
Rs700/$10USD

Holly Hills is what we claim to be the best homestay in India. This is an authentic rural homestay set in the stunning foothills of the Himalaya. You can read more About holy hills here.

Chhotaram Prajapat Home Stay
Rs2500/$36USD

Immerse yourself into authentic Rajasthani culture with this warm, friendly and traditional village homestay.

Prakash Kutir B&B
Rs3500/$47USD

Stay at this jewel in Delhi, a modern family run homestay to help you get to know the real India.

Dokohthang Home stay
Rs1900/$26USD
Get a taste of rural Sikkim life at this family run Homestay in mountainous regions of Pelling.
Aradhana's Home stay
Rs2700/$38USD

Enjoy traditional homemade food & a warm Indian welcome at this well rated homestay in Agra.

Sanu Home stay
Rs2500/ $34USD

Get off the beaten path in Rural Sikkim and stay with this engaging & warm family at their rural homestay.
We hope article helps you have an amazing couchsurfing experience in India, keep safe and happy travels!
Cheers, Native Travellers
​​INTREPID & OFF THE BEATEN PATH TRAVEL STORIES, GUIDES, TIPS & HACKS
Join the Native Travellers Journey and get off beat travel stories, tips and hacks. Plus we will send you a free Native Travellers music bundle!

YES! LETS JOIN THE JOURNEY