Considering adding Ella to your Sri Lanka travel itinerary? In this article we share with you a full travel guide to Ella Sri Lanka including things to do, where to stay and when to go! We will even share info on a hidden gem in Ella, an ancient site we found that hardly any other travellers know about!
Ella Sri Lanka provides the perfect balance between touristic and authentic. Nested in a valley, Ella is a small mountainous village surrounded by waterfalls and tea fields and is popular with travellers.
Despite being well on the traveller's path, Ella doesn't lack in charm, beauty and cultural significance.  Blessed with a laid back and peaceful vibe, we can understand why many travellers end up staying much longer than they had planned!
Before arriving in Sri Lanka, we had seen Ella featured in many instagram posts and travel blogs and were interested to see if it could live up to the hype. Interestingly,  Ella was a lot more relaxed then we had expected and it the scenery definitely exceeded expectations.
To experience the true essence of Ella Sri Lanka you have to venture out of town and explore the natural surroundings and historic gems!   We spent just under a week in charming Ella and loved every moment, exploring and discovering this memorable little village.
​
In this Ella travel video we explore this beautiful Sri Lankan hill station during the monsoon months:
Top Things to Do in Ella Sri lanka 
Ella is small town in the Badulla District of Uva Province with rich biodiversity and stunning natural wonders.
The great thing about this village is that although the town itself is small, the surrounding area provides a vast amount of natural beauties, ancient sites and cultural activities to discover. So let's get started on our ultimate list of things to do in Ella.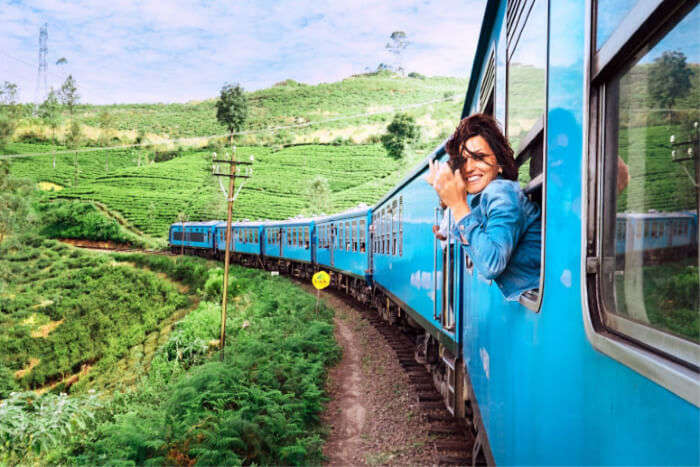 This is the hidden gem we mentioned earlier. Located just 7km's outside of Ella township the Dowa Rock Temple is a stunning ancient site that dates back2,000 years.
Located near a river's edge and surrounded by big beautiful trees, the highlight of this site is definitely the towering rock face which has been beautifully carved into the statue of buddha.
We arrived by local bus and were surprised to see absolutely no one else at the temple and no entrance fee required. We spent over an hour here relaxing under the trees and admiring the carving, a definite must see for those who want to get off the beaten path in Ella.
$:FREE
Getting There:Situated on the Badulla – Bandarawela main road, 7kms from Ella, you can reach the temple by local bus or tuktuk.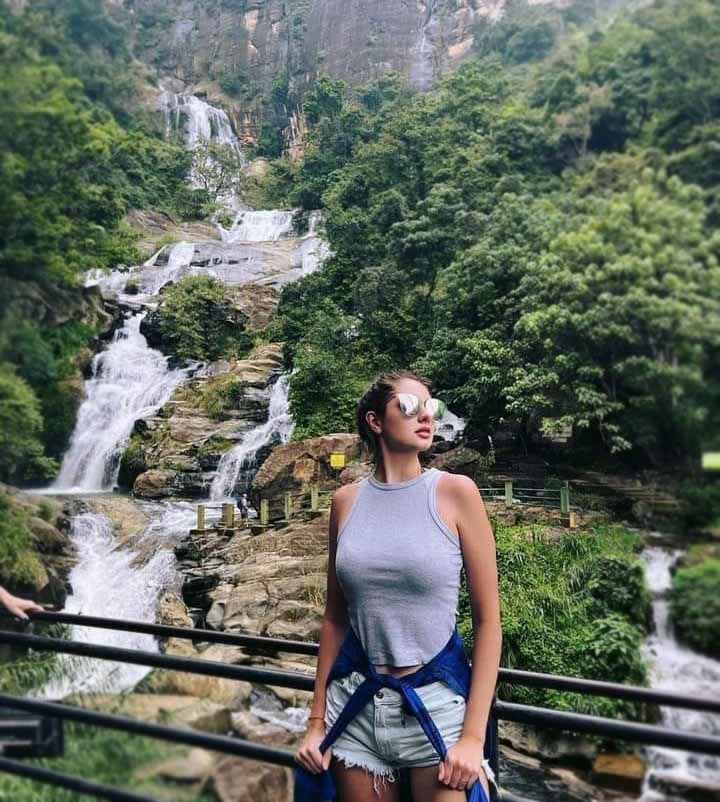 ​We visited Ella during monsoon season so the Ravana falls were in their full glory.  Apparently in the dry season the flow of water reduces dramatically.  We saw the falls twice, once while passing by on our way into Ella on a clear day and once during a day trip to the falls on a misty day.
We must say that the falls are extra spectacular on a clear day because you can witness thecascadesin their full25m grandeur. Misty day or not the falls a  impressive and a great way to spend an hour or so while in Ella.
However be extra careful when exploring the are around the falls and it's advised not to swim as many people, locals and tourist alike have died either swimming or rock hopping at these falls.
$:FREE
​Getting There:5kms south of  Ella, you can reach Ravana falls by local bus or tuktuk.
Little Adams peak is a scenic hike that takes you to a viewpoint in Ella at an elevation of1141m. Thejourney is a great way to spend a few hours and is a popular activity among fellow travellers.
Begin by passing through picturesque tea plantations and watching local tea pickers and then start the climb to the peak. The short and sharp 20min journey is a fairly challenging one, but the vistas that are revealed at the top are well worth the huffing and puffing.
The panoramic views are breathtaking and will help inspire your inner zen!  We spent a good hour at the top exploring some far reaching ridges and taking in the stunning views.
$:FREE
​Getting There:Finding Little Adams peak is fairly easy as its well sign posted, the path starts near 98 Acres Resort. You can easily walk there from town or catch a tuktuk.
Nine Arch Bridge in Ella is one of Sri Lanka's most iconic landmarks. Set among lush jungle and tea plantations and towering over 30metres tall this historic bridge has stood the test of time.
Nine Arch Bridge was built in the 1920's out of brick and mortar and many travellers take the small 30min trek to find it and marvel at its beauty against the dense green jungle.
Travellers visiting the bridge usually time their visits to align with the train schedules that run daily. The train is generally late so you could be waiting a while if you want to see a train crossing over the bridge.
​$:FREE
Getting There:To reach Nine Arch Bridge you can take a 30min walk from Ella town or catch a tuktuk.
Taking a cooking class was a highlight for us in Ella. Our homestay taught us how to make a traditional feast and it was incredible to see the amount of work that goes into creating a Sri Lankan Meal.  
One of most interesting things we learnt was how to extract coconut milk by hand! The best part or taking a Sri Lankan cooking class is obviously being able to eat your delicious creations at the end.
You can also  take those recipes with you and impress friends and family back home, which is an added bonus! We believe food is a direct insight into a culture, which is why we think taking a cooking glass is one of the best things to do in Ella.
$:$5-15
Getting There:You may find your homestay or accommodation in Ella will offer cooking classes otherwise there are plenty of establishment in town that offer them. ​
This is the view of Ella Rock from the Littles Adams Peak hike, see that large mountain in the distance, thats it! Ella Rock is a well known peak in Ella Sri Lanka that reaches a staggering 1041m in altitude. We didn't get time to hike Ella Rock but we have heard it's the best place to experience the dramatic vistas of Ella.  
The 8km up-hill hike can take up to 4hours return and is strenuous.  The path can be difficult to find, so this is an activity for those with a decent level of fitness and a sense of adventure.
Many people take on the hike alone and some will go with a local guide which can cost about $10, either way Ella rock will be an adventure filled day out in Ella Sri Lanka.
$: FREE or $10 with a guide
Getting There: You can reach Ella rock via the train Station in Ella. Turn left once you enter the station and follow the tracks for about 30mins pastKithalella railway station. You may spot signs saying 'wrong way' apparently these are fake signs to confuse tourist and force them into hiring guides,if you are unsure be sure to ask the friendly locals and they will guide you. 
Best time to visit Ella Sri Lanka
Deciding on the best time to visit Ella Sri Lanka always depends on your travel style and availability. Each season is unique and will come with its pros and cons, so we will list all the season to help you decide when is the best time to visit Ella for you. One thing to know about Ella is it is a fairly wet place and rain is expected all year round.
March to May
We visited Ella in May which is considered low season in terms of tourist numbers. So March to May is a great time to visit Ella if you want a relaxed vibe and cheaper prices.
The temperatures were warm and pleasant not too hot ranging from about 23-30°C, with April being the warmest month for Ella overall. May and April can see heavy rainfall, we did experience large downpours in the afternoons but the rain didn't last long and we still had plenty of finespells throughout the day.
During our time in Ella Sri Lanka we did experience quite a bit of mist and cloud which at times blocked views of waterfalls and valleys.
Tourist Numbers: low-Medium
Prices: Low
Weather: Heavy rainfall / cloud and mist cover
June to Aug


The weather during this time is pleasant and warm with the least amount of rainfall. Lower rainfall means clearer skies and more time to explore everything Ella has to offer. However this great weather does bring along with it inflated tourist numbers and prices.
Tourist Numbers: High
Prices: High
Weather: Great weather
Sep to Nov
Similar to the months of March-May, these months see increased rainfall with October bringing the wettest month all year.  Temperatures remain moderate and warm, hovering in the mid 20's. Tourist numbers will be at their lowest during this time which may mean great discounts on hotels and less crowds.
Tourist Numbers: Low
Prices: Low
Weather: Heavy rainfall / cloud and mist cover  
Dec to Feb
These months are the second busiest time of year for Ella, bringing pleasant weather great for travelling and exploring the region. The rains begin to subside in January and February and temperatures remain warm with an averaging 23-30°C.
Tourist Numbers: Med-High
Prices: High
Weather: Good 
Best Places to Stay in Ella
Choosing the right accommodation can make or break your trip, a
bad hotel room
can really cast a dark shadow on your travel memories.  So picking the right place to say is super important. Good news…..we have done all the hard work for you and have selected the top places to stay in Ella so that you can avoid the horror hotel rooms and keep your travel memories epic.
BUDGET


Pepper Hills Hostels


Get incredible mountain views on a budget at Pepper Hills, featuring hut style dorm rooms with beds that feature privacy curtains. Pepper hills has some great chill out spots and most importantly friendly and helpful staff. Boasting a garden, bar, restaurant shared lounge and free WiFi.
$7USD

Pepper Hills
MID RANGE

Jayamali Homestay

We stayed here during our time in Ella and loved it.  A very clean and welcoming homestay with a relaxed and quiet atmosphere and stunning views.  The family who own this place are friendly but the best thing is the food. They serve you a huge homemade breakfast and if you like you can even eat dinner, which is very reasonable and a true authentic Sri Lankan feast. The homestay is about 2km from the town centre but there are regular buses or cheap tuktuks available into town for ease of transport. A wonderful mid range option for Ella Sri Lanka, it gets the Native Travellers seal of approval!

$15-30USD

Jayamali Homestay
LUX




Chill Ville, View Point Hotel

Gleaming reviews for this stunning boutique hotel. The infinity pool looks out over the breathtaking views of surrounding  mountains and tea plantations. This classy establishment has been praised for its delicious food, professional staff and incredible hospitality. A perfect place to treat yourself in Ella!

$120USD

Chill Ville
Thats a wrap on our Ella Sri Lanka travel guide! We hope we have helped inspire your up coming trip to beautiful Ella! If you have any more Ella questions, let us know, we love hearing from you and try to answer questions as best we can.
​
Cheers, Native Travellers
​​
INTREPID & OFF THE BEATEN PATH TRAVEL STORIES, GUIDES, TIPS & HACKS
| | |
| --- | --- |
| | Join the Native Travellers Journey and get off beat travel stories, guides and hacks. Plus we will send you a free Native Travellers music bundle! |