We travelled to Meghalaya the wettest place on earth, during monsoon. Are we mad? Not going to lie, it did come with its challenges, but overall travelling to Meghalaya in August was an awesome adventure. In this article we share our first hand experience of travelling to Meghalaya in August as well as our tips for monsoon travel to this wet and wonderful region of India.
Is August a good time to visit Meghalaya? Visiting Meghalaya in August can be a good time to visit, however you need to be aware of the weather conditions.  August is monsoon season in Meghalaya and it is the third wettest month of the year with an average daily rainfall of about 15-20mm. The weather during August is warm and humid with an average temperature of 30°C and an average humidity of about 92%. 
| | |
| --- | --- |
| Daily Rainfall | 15-20mm |
| Average Temperature | 30°C |
| Average Humidity | 92% |
| Cloud Cover | High |
| Prices | Expect Discounts |
| Tourist Numbers | Low-Medium |
Although August means monsoon for Meghalaya, this fact should not deter you from visiting during this time of year.  Travelling Meghalaya in August does come with its pros and cons – which we will discuss in more detail in this article.  However, overall you can have an amazing travel experience during monsoon and we are sharing all our tips to help make your monsoon trip to Meghalaya enjoyable!
What is the weather like in Meghalaya during August:
We visited Shillong and Cherrapungee during August and both places had different  weather conditions. Shillong had very nice weather during August with temperatures ranging between 25-30°C.
We spent 9 days in Shillong and the rain was actually not too bad. There were a few showers and some downpours, but we also had lots of sunshine and many opportunities to go sightseeing rain free.
Shillong and its surrounding areas were often covered in fog and cloud cover, but this just added to the mysterious beauty of the place! Overall the weather was pleasant in Shillong during August and the monsoon rains were not constant nor were they heavy.
Cherrapungee on the other hand is considered one of the wettest places on earth and it was just that…WET!
The constant rain in the area is said to be one of the reasons why locals started creating the fammed living root bridges hundreds of years ago. Traditional wooden bridges would rot and decay too quickly in the wet weather, so locals improvised and created the unique living root bridges that still stand today.
During our 2 hour hike down to Nongriat, a small village in the jungle where you will discover some of these living root bridges, we experienced non-stop torrential rain. Rain is very regular and can be extremely heavy in Nongriat and it is extremely hard to dry anything during monsoon. We spent 3 days in Nongriat and it was so wet that when we returned to Shilling we noticed a lot of gear had become mouldy.
Temperatures in Nongriat/Cherrapunjee were pleasant and hovered around 25°C. Although the rain was constant and heavy it did not hinder our plans or ability to see the incredible living root bridges. A little rain never hurt anyone!
Visiting Meghalaya in August is not all bad news, there are  definitely pros and cons to visiting this region during monsoon.
The Pros of Travelling to Meghalaya in August
Less Crowds: Many other blogs and articles will advise you to avoid travelling to Meghalaya in August. The truth is travelling to Meghalaya in monsoon means you will encounter far less crowds.
We love travelling off the beaten path and although Meghalaya is still considered off the beaten path, its quickly gaining in popularity. So if exploring the root bridges almost on your own sounds like it suits you, you can beat the crowds and travel in August!
Lush Green: Monsoon always brings its own unique beauty, a beauty that is wild and lush. The monsoon rains means that the jungle's and valleys will radiate a vibrant green during August.
Gushing Waterfalls: The waterfalls in Meghalaya were out of this world during August. All the waterfalls in Meghalaya swell into their full glory, a magnificent sight to see! There are also countless falls that will develop in monsoon  that do not even exist during the dryer months. So, if you love waterfalls….August is a great month to visit Meghalaya.
Discounts: Meghalaya is slightly more expensive to visit than other parts of India. However monsoon is considered low season for Meghalaya so you can expect some discounts on accommodation during this time.  To begin planning and budgeting for your trip You can check out accommodation prices for Meghalaya during August on online >>> Link to booking.com
Wild Adventure: If you have an adventurous spirit, travelling to Meghalaya in August will actually be quite fun. We think back on our time in Nongriat – hiking in the torrential rain, and we remember what an exciting adventure that was. It's also pretty cool to be able to claim we went to the wettest place on earth during the wettest time of the year! I am sure that not many people can claim that!
Traditional Khasi Umbrellas: During monsoon traditional woven Khasi umbrellas will be seen as many locals use them to tend to outdoor chores and farming. They really are fascinating and beautiful and it's great to see traditional culture alive and well in Meghalaya.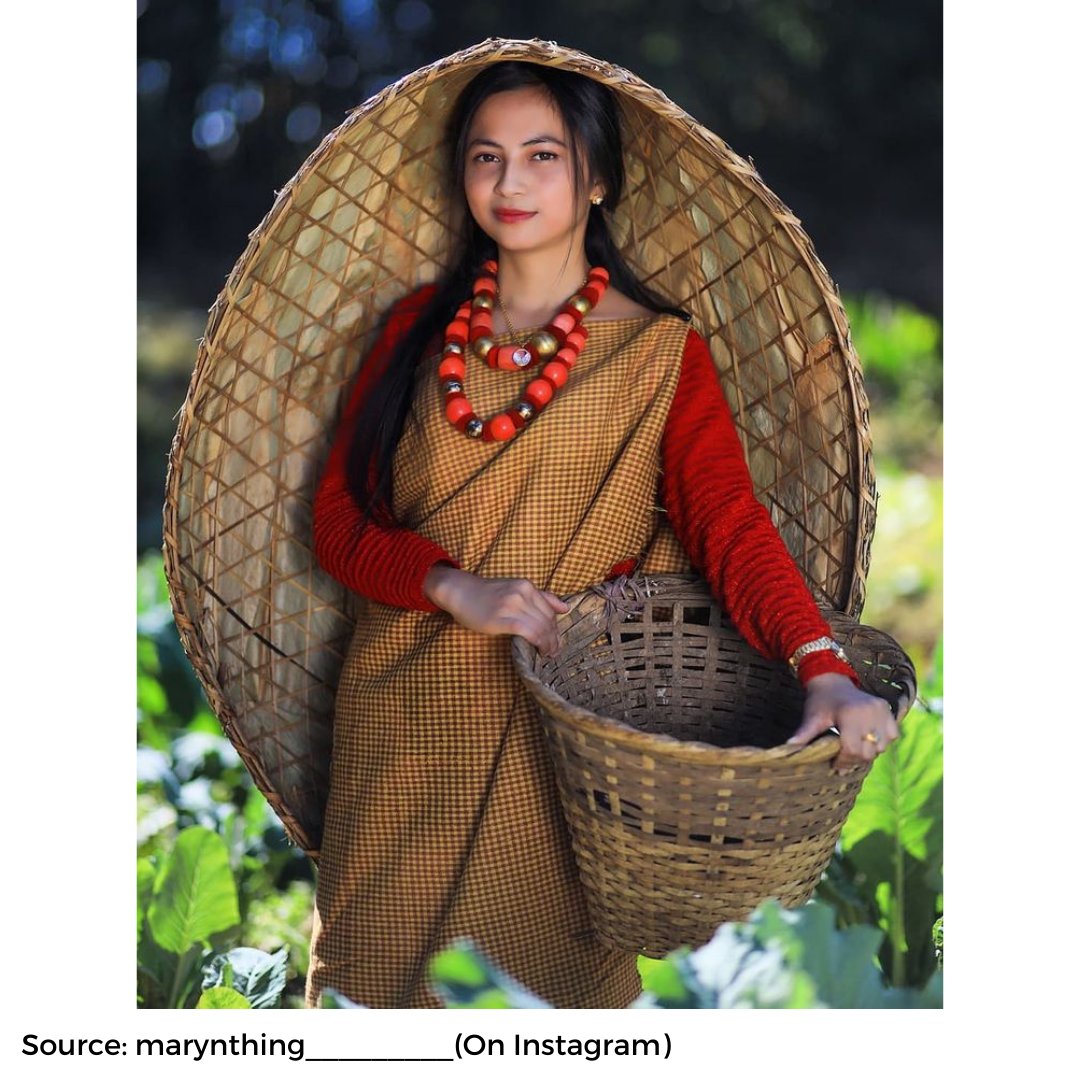 The Cons of Travelling to Meghalaya in Augusts
Cloud Cover: Meghalaya is known as 'the abode of clouds" so it's no surprise that you will experience higher chances of fog and cloud cover here and even more so during monsoon. This can be seen as a negative for sightseeing, but also can be seen as positive – so embrace the fog for all its mystery and beauty.
Rain: This is obvious and a it's a topic we have already covered in detail – so we won't go on about it for too long. If you decide to travel to Meghalaya in August you will experience heavy rain. If you visit Cherrapunjee the rain will be even more regular and torrential.
As we mentioned – we spent 3 days in Nongriat/Cherrapunjee and it was so wet that all our belongings become mouldy. Not our favourite part of the trip, but it was definitely a small price to pay for the incredible experience we had.   So, it's important to be prepared for this weather before you arrive in Meghalaya and embrace the monsoon rather than try to fight it. More tips on how to handle the rain later in the post.
Turquoise Pools of Nongriat: We had heard a lot about these beautiful turquoise pools and we were excited to discover them. Unfortunately during monsoon the rivers are just too wild and swimming is not considered safe. The rivers are flowing much faster and there is a lot more debris from the forests thats enters the waterways so the turquoise colour is not present during monsoon.
Tips for travelling to Meghalaya in August:
Respect nature: It's so important as visitors to respect nature, especially when visiting such a natural wonderland such as Meghalaya. Unfortunately we saw too many visitors trashing the land and leaving their rubbish in pristine natural environments. Don't be like that – take your rubbish with you and dispose of it correctly in the bin when you get a chance.
Fast drying clothes: Avoid cotton like the plague and opt for fast drying fabrics. Fabrics like polyester and nylon will be your new best friend because they dry super fast! So remeber this when you're packing your bag.
Travel umbrella: This is an obvious one, but an important one. Never leave your room without taking your umbrella, you never know when the next downpour will hit.
Keep your pack dry: It's super important to keep your pack dry. Trying to dry your pack and all its contents in such wet and humid conditions would be near impossible. So pack a proper waterproof bag cover. If your gear ever ends up on the roof of a bus or sumo make sure you protect it with an extra layer of plastic for waterproofing.  You can also pack important things like technology or your passport in their own plastic sealed or dry bag for extra protection.
Pack a Poncho: We always travel with ponchos, but never were our ponchos more valuable than when we were hiking to Nongriat. Ponchos are a waterproof hooded jacket that protects not only your body from the rain but also your backpack. Our ponchos provided an extra layer of protection from rain and kept us and our bags dry.
Waterproof Pockets: Take a high grade waterproof jacket with zip pockets…the perfect place to keep your phone. This means you can keep your phone accessible in your pocket without needing to worry it will get wet or damaged.
Take a Gopro: As travel vloggers we prefer using Gopros as they are small, durable and waterproof…perfect for adventure travel. We were so thankful to have our Gopro during our trip to Meghalaya, we never had to worry about our camera getting wet and it made capturing our monsoon travel so much easier and worry free.  So we recommend leaving your expensive non waterproof cameras at home and invest in a Gorpro.
Rent a Bike: Renting a bike is a great way to discover Meghalaya. We spent many days just riding to random villages and stumbling across stunning landscapes. Don't let rain deter you from this, just be sure to pack your raincoat and dry set of clothes as a backup.
Top Destinations to Visit in Meghalaya in August:
Shillong:
Shlliong was a very interesting city and had a strong musical influence.  This city is alive with creativity and music will often have live music events to enjoy. When we were there in August there was a Blues Festival on, so it was great to see the local and national blues talent live in action! Another sight not to miss is the huge and bustling Iewduh Bara Bazar! So we recommend spending at least a few days in Shillong discovering the food, markets, music and culture.  You can even check out our Shillong travel vlog below!
Laitlum Grand Canyon:
We hired a bike and visited this site from Shillong which took about 2hours one way. It truly is nature at its best with views that will simply blow you away. If you arrive and the view is obstructed by cloud cover be sure to wait 30mins or so, the clouds often shifts and one moment you can only see 1metre in front of you the next you will have a stunning panoramic view to enjoy.
Nongriat/Cherrapunjee:
Nongriat in the region of Cherrapunjee is where you will discover some of the famed living root bridges of Meghalaya. It is a small picturesque village in the jungle which you must hike 2hours to reach. Many people trek to Nongriat just to see the double decker root bridge, then leave. But we recommend spending at least 3 nights in Nongriat as there are many hikes, waterfalls and lesser discovered roots bridges and villages to explore.
Nohkalikai Falls:
Nohkalikai Falls is one of the many magnificent falls to discover in Meghalaya. In fact this is the tallest waterfall in India, a magnificent site especially during August when  the monsoon rains ensure the falls are in on display in their full glory.
Related Question
When does monsoon start in Meghalaya? Rains begin becoming heavier in late May, with full  monsoon season hitting Meghalaya in June. June and July are the wettest months of the year with August also experiencing heavy rain. In September rain beings to reduce with monsoon season ending late sept early October.
We hope this guide to visiting Meghalaya in August was helpful!
Cheers, Native Travellers
​​INTREPID & OFF THE BEATEN PATH TRAVEL STORIES, GUIDES, TIPS & HACKS
Join the Native Travellers Journey
and get off beat travel stories,
tips and hacks. Plus we will send you
a free Native Travellers music bundle!

YES! LETS JOIN THE JOURNEY