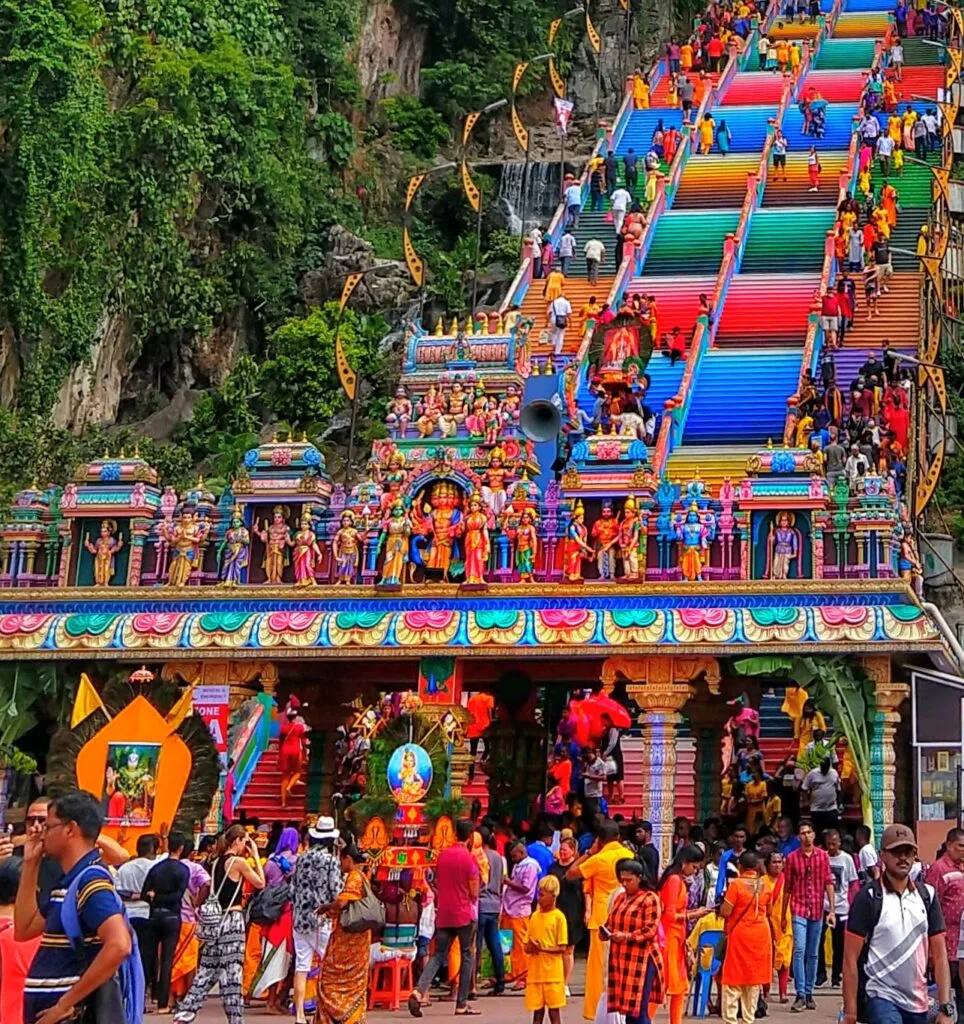 Thaipusam Pilgrim
The Thaipusam Festival in Malaysia is an incredible cultural experience. Held in Kuala Lumpur, the festival is a masquerade of south Indian tradition, colour, music, fascinating rituals and amazing displays of religious devotion. If you are looking for a truly mind blowing experience unlike anything you've ever seen, then you can't miss the Thaipusam festival during your visit to Kuala Lumpur.
​
Thaipusam is a Hindu festival that is celebratedon the full moon in theTamil monthof Thai (January/February). Although Thaipusam is celebrated in many countries which have a strong Tamil community such as India, Sri Lanka and Singapore, it is particularly spectacular when celebrated at the Batu Caves in Kuala Lumpur Malaysia.  The Batu Caves event is actually the largest Thaipusam gathering in the world attracting millions of pilgrims annually.
When we visited Kuala Lumpur at the start of our one year adventure in Asia, we just so happened to be in town when the Thaipusam festival was on.  We were told about the festival by our host who was a member of the local Tamil community, if it wasn't for him we wouldn't have even known it was on!
​We are glad we found out in time, because the Thaipusam festival was an astonishing cultural display, one of the most vibrant and spectacular events we have ever attended. Not to mention, it is held at the beautiful and mystical Batu Caves, which elevates the atmosphere of the festival.
You can see ourThaipusam Festival in Malaysiaexperience in our travel video here. This is actually one of the very first travel videos we ever made!
So if you are planning a trip to Kuala Lumpur, around Jan/Feb then we highly recommended you include the Thaipusam Festival in your itinerary. To help you get the most out of your Thaipusam experience we have created this helpful guide which will cover, what to expect, dates, how to get there, food, the meaning of Thaipusam and some handy travellers tips!
| | |
| --- | --- |
| Women Taking Offerings | Entering the Thaipusam Festival Grounds |
When is Thaipusam Festival?
Thaipusam is an annual festival, the upcoming Thaipusam dates are below:
Best Time to Go to Thaipusam Festival?
The Thaipusam Festival in Kuala Lumpur Malaysia, starts as early as 4am and continues well into the evening. However if you have to choose between day and night, we recommend to visit during the day when the atmosphere is more alive.
We arrived fairly early in the day to beat the crowds, I think we arived at around 8am. Although there were still large crowds, the crowds definitely grew as the day went on.
We suggest to arrive early morning about 8am-9am and head straight up to Batu Caves before the big crowds set in. Once you have walked through the caves, you can then take your time exploring the surrounding areas and eating yummy food in the afternoon.
How to Get to the Thaipusam Festival
TRAIN: The most convenient way to reach the Thaipusam festival at Batu Caves is to catch the train, this is how we did it! The KTM Komuter leaves from KL Sentral KTM Station and takes you straight to Batu Caves and costs about RM2.60/$0.60USD.
It's a short 30-40min ride in a modern air conditioned train. The first train from KL Sentral to Batu Caves is 6:56AM and the last train from KL Sentral to Batu Caves is 10:46PM. However, we read a recent announcement that they will start a 24hour train service during Thaipusam Festival, just check with locals to confirm this when you arrive in KL.  
​We caught an early train and it was not very crowded. However as a warning for the journey home in the late afternoon we had to wait in massive lines in intense heat for about 1 hour, once on the train it was very crowded, but the air conditioning was welcomed!
BUS: Taking the bus will probably be a slower journey than the train due to increased traffic during the festival. However if you do want to take the bus you can catch the Metro bus No 11 from the Central Market annexe or the Cityliner bus No 69 at Jalan Pudu to get to Batu Caves.
| | |
| --- | --- |
| Lines Waiting for Return Train | Pilgrims Taking Offerings |
What to Expect at the Thaipusam Festival
Hot Humid Weather:

The weather in Kuala Lumpur is a pretty constant stinking hot! So expect hot and humid weather during the Thaipusam Festival, the large crowds will no doubt increase the level of heat. Make sure you take a sunhat and be sure to drink lots of water to keep hydrated!  

Large Crowds: Expect very large crowds once you reach Batu Caves. Thaipusam Festival Malaysia attracts millions of devotees and is one of the largest religious gatherings in the world. Small stampede's are also a risk, due to such large groups, so be aware and avoid going into the caves at peak times. Morning is usually less crowded than mid afternoon.
Mind Boggling Sights:

Expect to see fascinating displays of devotion at every turn in including painful body piercings with large skewers and items being carried or pulled on hooks attached to the body.
Kavadi:

You will see hundreds of extravagant Kavadi at the Thaipusam Festival. Kavadi are almost like parade floats

carried in by devotees 

that are beautifully decorated with feathers, followers, lights and sparkles.  A true delight to the eyes! People who carry Kavadi must fast for 48hours beforehand with a particular diet and a strict prayer routine.
Trances: You will witness ceremonies usually with drums where the person will go into a deep trance. It's a very intense and interesting ritual to watch.
Traditional Music: You will hear lots of live and wonderful traditional music as musical ensembles lead pilgrims to the temples inside Batu Caves.
Yellow & Milk: Devotees are adorned in yellow and orange, colours to honor Lord Murugan and jars of milk are carried on the head as offerings.
Lots of Steps:

There are 272 steps that you need to climb to reach the Batu Caves, but don't worry it won't be a boring climb, you will marvel at the countless devotees and incredible views of the giant Lord Murugan statue as you climb your way to the top.
Cheeky Monkeys: 

Once you enter the caves be careful of the cheeky monkeys that are known to steal handbags and belongings. Infact, I would avoid taking a handbag and anything loose that could get lost or stolen and just stick to a backpack secured with a lock.
Bare Feet: When you enter the Batu Caves you are entering a holy temple, so you are required to remove your shoes, this was a bit grosse for us at first as the ground wasn't the cleanest, but we got over it. Make sure you hold onto your shoes or bring a plastic bag so that you can pop them in your backpack. Don't leave them at the temple gates, you might not see them again.
Modest Clothes: You cannot enter the Batu Caves unless you have your knees and shoulders covered, so dress modestly for your Thaipusam adventure.
No Entry Fee:

It is free to visit Batu Caves all year round….woohoo!

Food at Thaipusam Festival
You can find an array of delicious Indian snacks and meals at the Thaipusam festival. You won't go hungry that's for sure! Don't be afraid to try something new and interesting, it's fun!
I remember trying Panipuri for the first time ever at Thaipusam, it's a refreshing snack consisting of a crispy fried shell with a sweet and spicy cold liquid inside, very refreshing on a hot day! You will also find some stalls giving away free food at drinks at the Festival which is amazing to see!
What is the Significance of the Thaipusam Festival?
Thaipusam is a Hindu Tamil Festival to honor Lord Murugan, the god of war and a son of Shiva and Parvati. It is said there are many stories behind the meaning of Thaipusam, one version is that Thaipusam commemorates the moment when Parvati gifted her son LordMurugan a scared Vel (spear) which he used to kill three demons.
It is usually a representation of this 'vel' that you see pierced into devotees bodies during Thaipusam.Lord Murugan the god of war is also known as the universal dispenser of favours. 
Followers of Lord Murugan bring offerings, carry heavy elaborateKavadiand apply the painful skewers and hooks into their flesh as a sign of devotion and thanks to the holy Lord for the good graces in their lives.
| | |
| --- | --- |
| Walking to Batu Caves | Music at Thaipusam Festival |
| | |
| --- | --- |
| Devotees Inside Batu Caves | Inside Batu Caves |
Recommended Accommodation in Kuala Lumpur Malaysia
To save you some time and energy, I have spent many hours researching to find the best available accommodation in Kuala Lumpur.  I have made sure to choose options for various prices ranges, here are my top findings:
BUDGET

Preece's B & B,

A homely accommodation with clean rooms, great reviews and a peaceful garden. The best thing about this accommodation is the value for money, with private double rooms for as low as

MR59/$15USD

Preece's B & B
MIDRANGE

Hc Studio Regalia Residences Rooftop Infinity Pool, 

boast large clean apartment style rooms. The property also features a fitness centre and the star of the show, the incredible infinity pool with stunning views of the city and Petronas Towers.

MR150/$35USD

Hc Studio Regalia Residences Rooftop Infinity Pool
LUX
​

The Mews Luxury,

deluxe apartments with ample space and beautiful interiors design. The apartments have very high review ratings and also showcase stunning views of the Petronas Towers.  

MR450/$110USD

​The Mews Luxury
Find Cheap Flights to Kuala Lumpur
Momondo is a great tool to help you find the best fares possible for your trip to Malaysia. With one easy search, you can scan all flights and find the absolute best deal for your dates!
We use these flight search tools everytime we purchase flights, so that we can spend less on flights and more on exploring and eating yummy food!  You can check out flight prices below.
We hope our Thaipusam travel guide was helpful, if you have any further questions let us know in the comments below and we will be happy to help as best we can!
​
Cheers, Native Travellers
​​INTREPID & OFF THE BEATEN PATH TRAVEL STORIES, GUIDES, TIPS & HACKS
| | |
| --- | --- |
| | Join the Native Travellers Journey and get off beat travel stories, guides and hacks. Plus we will send you a free Native Travellers music bundle! |