Secretly tucked away in the Lower Subansiri district of India's Arunachal Pradesh is a relatively small and remote valley named Ziro. Located in North East India, one of India's hidden gems. Many non-indians we talk to will not even be aware of North East India's existence. To take it one step further off the beaten path, this valley is located in the heart of Arunachal Pradesh, India's least populated and least visited state.
Our time in the recently listed World Heritage Site of Ziro was one of the highlights of our entire 5 month journey across India. As travellers, we thrive off exploring authentic destinations, the places on earth that few others have ever seen. This is why we were so excited to visit Ziro Valley and now why we are excited to share all our tips with you, so that you can have an amazing trip to Ziro as well!
In this article we share why we enjoyed Ziro so much and provide a full travel guide to help you plan your trip to Ziro! You can also check out our Ziro travel video below for a real taste of what you will expect if you visit Ziro Valley.
You can also watch our Ziro travel adventures in our travel vlog:
Contents:
Why Visit Ziro?
Ziro Culture
What to Expect in Ziro?
Where to Stay in Ziro?
How to Get Around in Ziro?
Food in Ziro
Things to do in Ziro
How to Reach Ziro?
Weather in Ziro
Daily Costs in Ziro
Other places to visit in North East India
Why Visit Ziro?
If you are the kind of traveller who appreciates a real adventure and getting truly off the beaten path, then Ziro is a must see travel destination. Ziro provides an authentic travel experience, the valley is seemingly untouched by tourism and there are not many places left like this in the world.
The things you will encounter in Ziro are truly authentic and nothing is for show or for tourism. Not only will Ziro provide an authentic experience it does not disappoint in terms of scenery. Lush green rice paddy fields, rolling hills and traditional bamboo houses are all a delight for the eyes!  So if this all sounds intriguing to you, read on to get more information about Ziro Valley.
Ziro Culture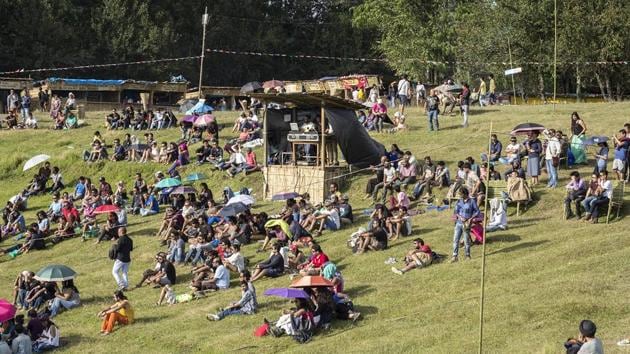 Ziro is a small tribal valley which is rich in culture and customs. It was the culture of Ziro valley that really captured us and made Ziro an unforgettable travel highlight. Ziro valley was one of the most authentically culture rich places we have ever traveled to.
You will see many people living the ways of their ancestors and many people still carry on ancient tribal rituals and religions. Ziro is the type of place you can explore and just stumble across a woman hand looming a traditional dress or a man hand weaving a drinking vessel.
The people of Ziro belong to the Apatani tribe. This group of people are one of the few in the world where nature is still worshipped as a god. The Apatani people of Ziro still actively partake in ancient pagan/animism belief systems.
These religious practices place significance on the belief that all objects such as animals, insects, plants, rocks, rivers, mountains have a spiritual essence. The religion is uniquely practiced to this day in the ancient way by means of shaman healers, animal sacrifices, religious ceremonies, festivals and spiritual altars.
Most people of Ziro Valley still live in traditional bamboo homes which is fascinating to see in todays modern world. Customary tribal dance and song has also been preserved in Ziro and we had the pleasure of witnessing this at a local harvest festival when we visited.
Perhaps one of the most interesting and beautiful aspects of visiting Ziro is getting to see the stunning facial decorations of the Apatani women. These facial decorations consist of facial tattoos and nose plugs which are used to determine a clear tribal marking so that other tribes knew these women are of Apatani descent.
What to Expect in Ziro?
Be prepared for a different world when planning to travel to Ziro. When we say off the beaten path, we really do mean it. There are limited modern luxuries on offer in Ziro. You might find internet and hot water harder to come by and your food options will be largely limited. Don't expect lots of western food options or even traditional mainland Indian dishes, as the local traditional food is the main choice in Ziro.
Unlike many other states of India the dominant language in Ziro is not hindi, it's Apatani, which is also the name of the tribe.  English is also spoken less in Ziro than in other places across India, so you might find the language barrier a little more difficult. Road conditions in Ziro are generally pretty good, however some smaller roads and villages will have mud roads, not tar sealed.
Where to Stay in Ziro?
Accomodation is fairly limited in Ziro and you will not find any 4-5 star hotels here. Accomodation is usually simple but comfortable, here are some of our top recommendations.
Camp NorthEast Guide Ziro:
Camp in the forest in Ziro Valley. Motorbike rental also available here.
₹1000/$15USD pp
Vamoosetrail Ziro:
A local homestay with traditional breakfast served daily.
₹2500/$35USD pp
Hotel Zimin Ziro:
A newly opened and slighly more luxurious accomodation option in Ziro
₹3700/$52USD pp
Kasa Resort:
Comfortable chalets on a large property featuring a restaurant, lovely garden & playground
₹3500/$49USD pp
How to Get Around in Ziro?
Ziro is not just one village, it is a collection of villages spread across a large valley. This makes travelling between villages a little harder. There isn't any public transport available in Ziro and rickshaws and taxis are pretty hard to come by, unless you organise them through your hotel or homestay.
The roads in Ziro are very quiet and relatively safe, so we recommend you hire a motorbike or scooter via your homestay or hotel. Having your own bike will allow you to travel freely and explore the valley in full. The average cost of a scooter or motorbike hire in Ziro valley is 700Rs per day.
Food in Ziro
Rice, meat and bamboo shoots are the staple foods in Ziro. Some common dishes are slow cooked pork, meat barbecued in bamboo, as well as salads and pickles made from local greens and herbs. You can also easily find momo's on offer in Ziro.
As well as meats such as fish, chicken and pork you may also notice some more unusual choices such as frog, silkworms, rat and dog on offer. We saw the BBQ'd dog meat for sale at the Dree Festival and rat meat for sale in the markets. But perhaps the most famous food item in Ziro is Apong, a culturally significant rice wine, brewed locally in Ziro and often served in a bamboo cup!
Things to do in Ziro
Explore Surrounding Villages: You will be surprised at what you will discover just by walking through some of the smaller surrounding villages of Ziro Valley. We were lucky to find a woman working a hand loom on her front porch and were invited to watch her, she even asked me try on the skirt she was making. We also discovered a man weaving a basket and were kindly welcomed to sit and watch and chat with the locals.
Visit the local markets: The Hapoli market is a great place to see local culture and cuisine on full display. A truly unique market experience unlike anywhere else. You will be fascinated by the sights and smells of the market with everything from fruits, vegetables, berries, jungle food, frogs, rats and wasp larvae for sale.
Explore the Valley on Motorbike: We recommend hiring a motorbike or scooter from your homestay or hotel. We loved riding through Ziro valley on our hired motorbike. We could find stunning valley lookouts, ride through the rice paddy fields and discover many small and enchanting villages within the region. As we mentioned above, the average cost of a scooter or motorbike hire in Ziro valley is 700Rs per day.
Take a Walk Around Old Ziro: Take some time to explore Old Ziro on foot. Old Ziro is the historic centre of the valley and is home to stall fronts, street food, craftsmen and bamboo neighbourhoods. It was while wandering the streets of Old Ziro that we were invited into a local man's home for some home made rice wine, a wonderful travel memory!
Visit the Garden of Eggs: The garden of eggs is located on the outskirts of Hong Village in Ziro Valley is an interesting place to see a collection of religious altars made for sacrificial ceremonies. The altars made from egg shells, bamboo and feathers play a role in the ancient animism religion of the Apatani people and are made for sacrificial ceremonies.
Hire a local Guide: If you feel you want to know more in depth knowledge about the Apatani culture and way of life you can always hire a local guide. There are no obvious online resources that lead to guides in Ziro, but if you ask your hotel or homestay they will surely be able to connect you with a knowledgeable local guide. The cost of a local english speaking guide in Ziro will set you back about 1000-1500Rs per day.
Attend a festival: We recommend timing your visit to Ziro around one of its three main festivals. This will enhance your Ziro experience and give you greater insight into local life and culture. See bellow information on Ziro Valleys three main festivals.
Myoko festival – March
Myoko is a 10-day long festival usually celebrated from March 20 to March 30 every year. Each year a new village within the Apatani tribe will be responsible for hosting the annual event. This is one of the most enthusiastically celebrated festivals of the Apatani tribe and represents prosperity, friendship and fertility. The 10 day event is a cultural and religious display featuring many pagan rituals, dances, songs, foods and sacrifices.
Dree Festival – July 
Dree is a wet rice harvest festival celebrated by the Apatani people over the course of 3 days usually starting on the 5th of July. We attended the Dree Festival and it was such an amazing way to see local culture, food and customs. It was also a really great way to meet locals and make new friends.
We were able to witness tribal rituals, dance, song, games, traditional rice wine and communal feasts. As this festival is held during monsoon we were literally the only foreign tourist in Ziro expect one other girl, a stark difference from what might be expected from attending the Ziro Music Festival, more details on that below.
Ziro Music Festival – Sep Many people would have heard about Ziro Valley because of the famous Ziro Music Festival.  This festival has increased in popularity over the years and now boasts over 6000 attendees and many great musicians from across India and internationally.
The three day music event is actually run by the local Apatani Tribe and is usually held in late September. So if you are a music lover this would be a great time to visit Ziro, however don't expect the peaceful, tourist free Ziro we mentioned earlier.
How to Reach Ziro? 
Reaching Ziro is no easy feat, in fact we can say it is one of the most difficult places we have ever had to travel to. We were travelling during monsoon which may have contributed to the difficulty. However reaching Ziro will be a challenge anytime of year.
The good thing is the journey is also part of the adventure! You will first need to make your way to Guwahati, from there your journey will likely take 2 days via train and shared sumo. You will also need to organise permits to allow you to enter the protected state of Arunachal Pradesh. For a full detailed guide on how to reach Ziro and obtain your permits you can read our step by step guide here.
Weather in Ziro
Summer – April-June: 10°C-30°C Summer in Ziro is quite pleasant with warm temperatures averaging 20°C. Summer also brings pleasant breezes across the valley. Rainfall is minimal in April and increases as the summer moves into June. The rice paddy fields are also bright green in summer making it a wonderful time to visit the region.
Monsoon July-October: 5°C-30°C We visited Ziro in July, the heaviest month of the year for rainfall. The monsoon rains in Ziro are similar to other locations around the world. Heavy short rains with a large part of the day clear and sunny, rather than constant rain all day. We didn't find the rain disrupted our daily activities much, however it did make the journey to Ziro slightly more difficult with an increase in landslides and mud on the roads. You can see that travel video here below.
Monsoon is the warmest season for Ziro Valley, and is generally lovely during the day averaging about 25°C. However at night or during rainfalls the temperature can drop substantially to as low as 5°C. The rice paddy fields were still a vibrant green when we visited in early July, but I have read that harvest is in July, so this may change once the rice fields have been harvested.
Winter – November-March: 2°C-20°C Winter temperatures in Ziro average at about 10°C but can drop to as low as 2°C. Rainfall is very minimal in Winter and December is the lowest month for rainfall for the year. However winter might not be the best time of year to witness the vibrant green rice paddy fields that Ziro is famed for.
Daily Costs in Ziro
The Costs in Ziro are not as cheap as what you might find in other places across India. This is mainly due to the limited options for accommodation driving prices up. Below is a quick summary of what you might expect to spend in Ziro Valley.
Approx Daily Total: 5000rs per day
| | |
| --- | --- |
| Food | 1000rs per day |
| Motorbike rental | 700rs per day |
| Accomodation | 2000-3000Rs per night |
| Guide | 1500rs per day |
Other places to visit in North East India?
North East India is filled with incredible places to discover. We recommend travellers take the time to explore beyond Ziro Valley if they have time.  After departing Ziro valley we travelled to Sepa, Bomdilla and then onto the Famous Tawang which is a picturesque mountain town bordering Tibet.
Tawang is also home to one of the second largest living buddhist monasteries in the world. After our time in Tawang we decided to explore the nearby state of  Meghalaya where we spent lots of  time in Shillong and also went to discover the fascinating living root bridges.
---
We hope this Ziro Valley Travel Guide was helpful and has inspired you to visit this wonderfully unique travel destination. If you have any further questions about Ziro, let us know in the comments and we will try our best to answer your questions.
Cheers, Native Travellers
​​INTREPID & OFF THE BEATEN PATH TRAVEL STORIES, GUIDES, TIPS & HACKS
Join the Native Journey and get off beat travel stories, guides and hacks. Plus we will send you a free Native Travellers music bundle!

LETS DO IT!